Crochet a Bright and Colorful Summer Poncho With Today's Free Pattern!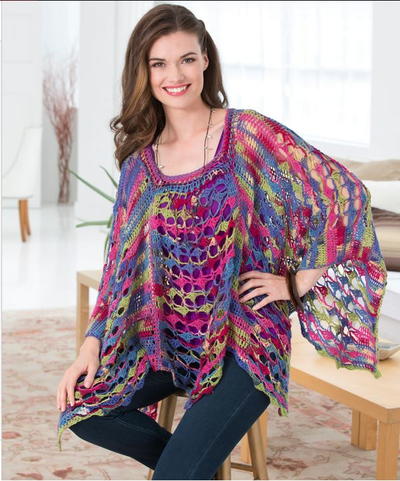 |
As the song goes…Summer Breeze may indeed make you "feel fine", but there are other times when it's a little chillier than it appears to be.  That is why this bright crochet poncho is just the ticket for summertime wearing!
Everything about this poncho screams "the good life", from it's delicate appearance to sturdy construction, and amazing array of bright summery colors.  I think I'm going to make one myself as well!  I love the uniquely, ethereal, floaty quality that it has to it!
To grab your copy of the free crochet pattern for a summertime poncho, please click here.
If you make one in a different colorway than pictured, or even if it's the same, we would all love to see a picture, so please post it to our Facebook page.
Also, please remember to click a few Ad links on the Spinner's Husband website to help us keep providing you with awesome patterns and techniques and tutorials each day.  We are not asking you to purchase anything unless you want to, but please click the links!  We truly appreciate it!
Be Well Friends
Laura & Bruce