Crochet a Lighted Rug or Wall Hanging!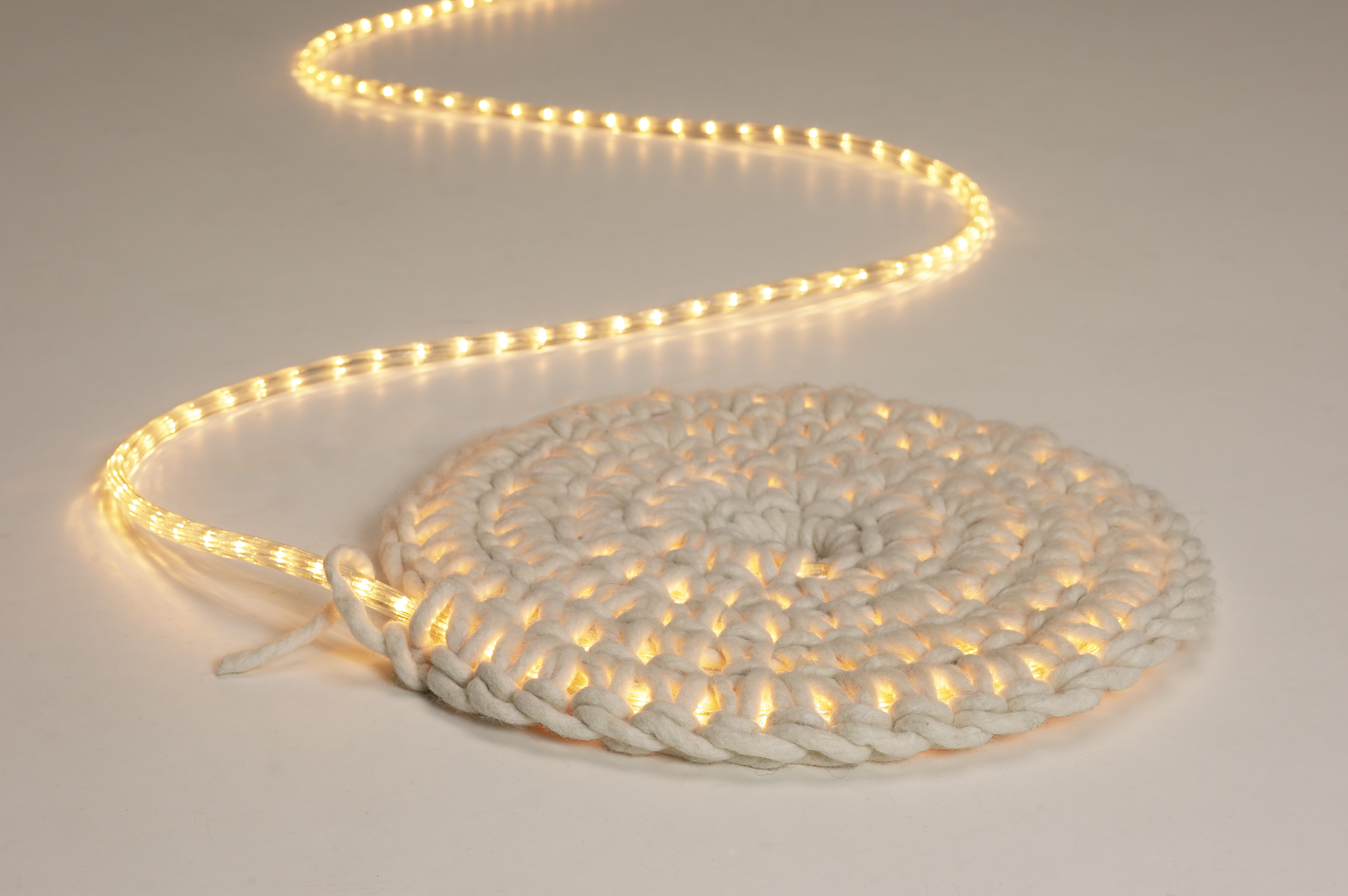 |
I seem to be very fond of circles lately, and today's crochet light up mat or wall hanging is no exception.
Basically what you are doing is crocheting a spiral around an LED rope light, to create a crochet work of art that can be used in whatever ways you would like, and that your imagination takes you.|For instructions on how to crochet a basic spiral stitch, you can find numerous tutorials online.
To download the page describing how to make the crochet light up mat/wall hanging can be found by clicking here.
You can make it in more than one color, which looks really nice in a spiral, your could use colored rope lights, and this lit circle would look amazing on a nursery wall too, done in the same colors as the baby's room!  A nice soft, gentle light for baby as they drift off to dreamland!
You could also use up some of your stash by making this a multicolored spiral, and they would also make phenomenal gifts – or even holiday gifts (ie: Christmas)!  They are such a novelty I can practically guarantee that your friend, family member will not have seen them before, but will love them like crazy!
Special thanks to Johanna Hyrkäs , the original creator, and Carmen Jorissen at CraftyQueens.nl blog for sharing this pattern and their tips and insights with us!
As a note of caution, please please please ensure that you are only using LED lights, because they do not warm up, and conventional holiday lighting could potentially become a fire hazard once covered with yarn, and I do not want that to happen to anyone – and especially not our friends on this blog!
If you make one, please send in pics of it, so that we can all admire your handiwork!  I can't wait to see them!
Be Well Friends!
Laura & Bruce
**To keep the free content coming to our Spinner's Husband website, could we please request that you click on a few of the Google Ads on the Spinner's Husband website with the write-up for this pattern currently on it, or any other pages on the Spinner's Husband website!  No purchase is necessary, unless you really want to, just clicking is sufficent! We truly appreciate all your help with this, and we thank you!