Crochet Mandala Madness! Free Pattern!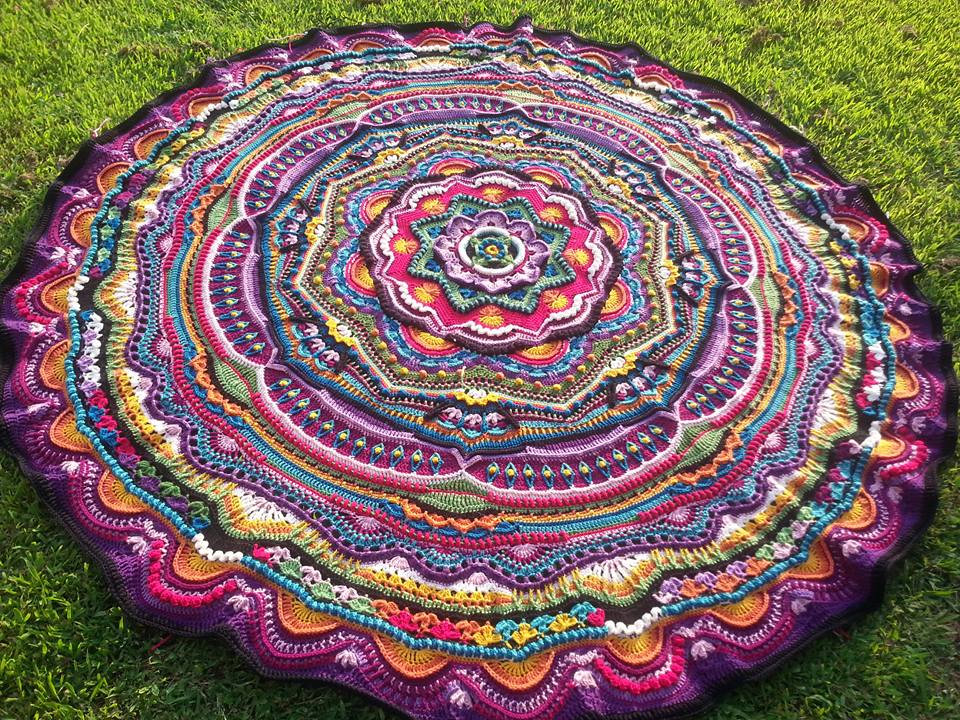 |
I'm sorry I wasn't back yesterday as promised, but life has a funny way of happening, no matter how much I want to be online or working on my latest crochet project.
So, by means of an apology, I am providing you all the instructions to crochet this drop-dead gorgeous, stunning giant Mandala Blanket.
We have previously covered Mandala's in a few of our previous posts, like here, and here, and here, but in my mind this one takes the cake!  I plan to crochet one myself, and am just working up the energy to go downstairs to my "wool room" and raid it for some wonderful bright colors to make it with!
This pattern is in the form of a CAL – if you are not familiar with the term(Crochet-a- Long), it's a series of instructions released once a week or more, and moderated/created by a person on their blog.  This one is fabulous!  It mesmerizes me!
Special thanks to Helen Shrimpton of Crystals and Crochet.com for creating and sharing this CAL for the Mandala Madness with us!
Please click here to reach her webpage, and then scroll right down to the bottom to find the first sets of introduction and instructions to crochet it.
Then you can follow each step up the page until you have created your own mandala of epic proportions.  It truly is amazing.  I have not been this blown away by a pattern in quite a long time!  I hope you will try it and love it too!  I'm sure the lucky recipient that you gift it to (even yourself!) will treasure it for decades to come!  You could also start now and have a stunning gift to give someone you love over the holidays!
Please post pictures of your progress as you go, if you do decide to make it, which I really hope you do!
Be Well Friends!
Laura & Bruce