Crochet this free Little Bird Pattern!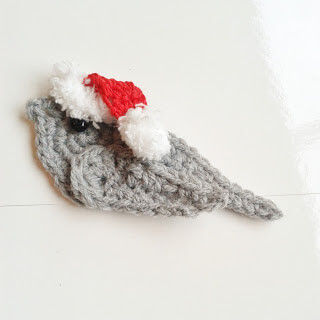 |
It isn't a Partridge in a Pear Tree, but it is an adorable little crochet bird nonetheless!
My Granddaughter has a very definite idea that we should have birds on our Christmas tree.  The first year that she insisted, she was only 2 years old, and it had to be a "purple birdie".  So, Nana (me) went on the hunt for a purple birdie, and finding none in the stores, made her one of paper, cardboard, pipecleaners and purple magic marker.   It was a hit and filled the bill successfully for her.  Now I either knit or crochet them!
Since them I am a little more prepared, and have time to search out each year's bird.  This year I found an adorable little crochet bird pattern, which I thought I would share with you today – it is quick and easy, and you can even turn them into a little garland if you crochet enough of them!
There is a handy step by step photo tutorial included on the page as well!
They do not use alot of yarn either, so they are wonderful end of the year stashbusters too!
You can even make two of them and sew them together to stuff for a 3D birdie!
The English pattern is below the first pattern on the page, so please scroll down past the Dutch pattern to find it.
Special thanks to Sascha of "Let's Yarnify" blog for sharing this free pattern with us!
Please send in pictures of your birds if you make them!  My Granddaughter would love to see them I'm sure, as would Bruce and I!
You can access the free Little Christmas Bird crochet Pattern by clicking here!
Be Well Friends!
Laura & Bruce