Crochet this Adorable Heart Beanie in time for Valentine's Day!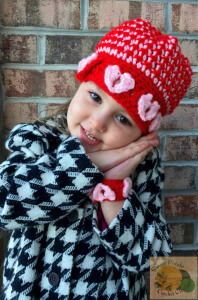 |
The time of "hearts and flowers" is quickly approaching.  Will you be ready?  There is still plenty of time left to crochet this little heart beanie for a little person in your life with this free crochet pattern.
I absolutely love how the little crochet hearts "pop" right off the hat, which I'm sure is why the author named it here "Pop Goes My Heart Beanie"  Texture like that is also loved by the little people for whom the hat is intended!
If your little one's wardrobe will not match with a red and pink hat, you can always make it in a different color or colors.  I'm thinking that a black or white one with hearts made from a variegated rainbow yarn for a variety of colors would look really cute, and work all year round.  What color combinations are you thinking of?  I'm also thinking that this little beanie would be an excellent use of some of the yarn in your yarn stash too.
Special thanks to Carol at Sweet Potato Crochet Creations for sharing this little crochet heart beanie with us all!  There is also a matching cuff/bracelet pattern on her site if interested.
To access the free crochet pattern for this wee hat full of love, please click here.
Be Well Friends!
Laura & Bruce
**If you could possibly spare a moment or two to help support our site in bringing you fresh free patterns every day, we would like to request that you please click on some or all of the Google Ads on our Spinner's Husband blog page.  Clicking does not cost you anything.  While there, you can also look at the Amazon ads to stock up on any needed or wanted crafting supplies and extras you may desire.  We thank you for your support!