Crochet a Peacock Lace Infinity Cowl [Free Pattern)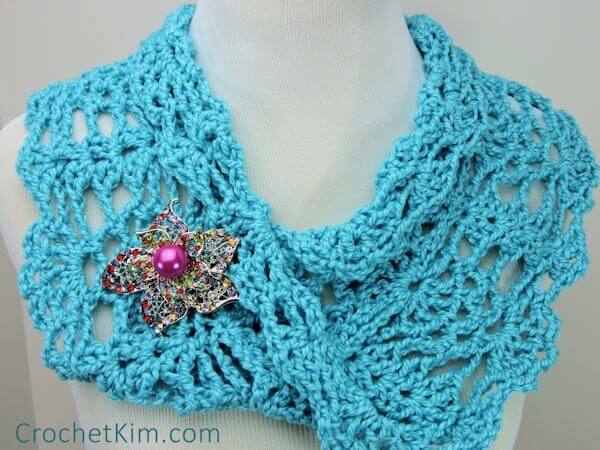 |
This free crochet Peacock Infinity Cowl pattern would look stunning when paired with your Holiday attire.  It could even dress up a pair of nice jeans and t-shirt.  It is just that sort of timeless go anywhere, suit anything kind of accessory that we all love to have in our closet!
Kim Guzman from Crochet Kim uses a cotton/silk blend to make this cowl, but as soon as I saw it, I immediately thought of bamboo fiber – that would look shimmery and amazing and would also help regulate your body temperature, as bamboo breathes well, and both a warming and a cooling agent as a result!  You will be as proud as a peacock strutting your "stuff" in your brand new crocheted cowl!
This cowl only required 1 ball of yarn as well, making it an awesome stash buster!!
I absolutely love the shade of turquoise/teal that she has made the sample in, but my heart will always turn to purple, as it is my favorite color!  That is the beauty of making something for yourself by yourself, you can crochet it any color that you choose to, rather than being limited by the colorways of a particular line of yarn.  It also allows you to further personalize gifts for others as well!  You can also pick up a special little costume jewellery brooch and include it with your gift for that extra flair!
Special thanks to Kim Guzman of CrochetKim.com for sharing this gorgeous pattern with us!
To access the free crochet pattern for this lovely Peacock Lace Infinity Cowl, please click here.
Be Well Friends
Laura & Bruce