Lacy Crochet Dahlia Doily | Crocheting Crafts | Spring Crafts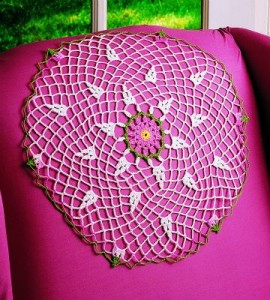 |
To watch this flower bloom, there is no need to get your hands dirty!  Rather, gather some crochet cotton in various colors and start crocheting!  A new heirloom will be created!  Spectacular!
Bruce picked this crochet doily pattern for you, as he has with several patterns over the last couple of days, because I have been under the weather.  He's a keeper that's for sure!  Any man who encourages my "yarn habit", and tolerates the huge rubbermaid totes/tubs of yarn filling the bedroom, the living room and even literally filling one full room downstairs known as the "wool room", is a treasure all in itself!  I missed you guys though, so here I am!
This doily looks like a pretty straightforward mesh stitch pattern, so I have complete confidence that you will be able to whip up a beautiful and delicate Dahlia Doily as a gift for someone special, or just to grace your own home!
If you are not sure you want to crochet with something as thin as crochet cotton and an itty bitty hook, consider using a thicker yarn and larger hook, and turn the doily into one of those fancy circular shawls.  You would just need to extend the mesh stitches around and around, until it is the right size for you to begin the edging!  If you do this, or make the regular doily, I would love to see them!  Post pictures please!!
Above all, have fun with it!
Special thanks to Emma Willey of Love the Country.com blog for providing us with this free crochet pattern!
You can access the free crochet doily pattern by clicking here.
Be Well Friends!
Laura & Bruce
**If you feel so inclined, enjoy coming our page every day for fun and free patterns, please consider supporting the Spinner's Husband Blog page by clicking on some or all of the Google Ads that you will find there.  It costs nothing to click, but helps us a great deal.  We appreciate you!!