Knit Your Best Friend a Stylin' Warm Sweater! Free Pattern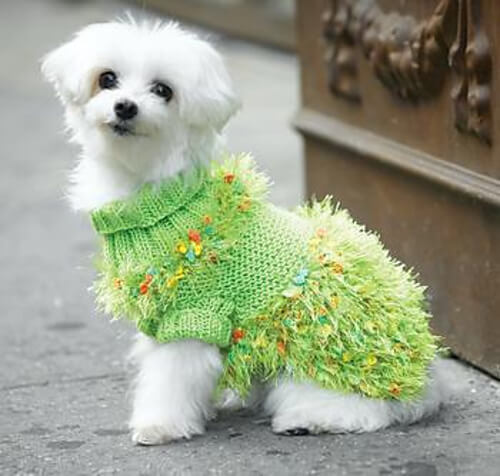 |
The weather has been both atrocious and ferocious lately, and this leaves your small furry friends feeling chilled to the "bone"!    This fancy free knit sweater pattern is both adorable and functional, and knits up quite nicely.
I have made several of these as commissioned by some of my customers for their small dogs, because it is a fashion statement with the specialty yarn floofy bits and is also an easy on, easy off, nice warm sweater!
Special thanks to LionBrand yarns for providing us with this fancy free knit dog sweater pattern!
To view the knit pattern for this stylish dog sweater, please click here.
To see pictures of some that I have knit using this pattern, please click here.  I have not been active on my Bambina's Best site over the last couple of years due to some personal health complications, but do still take commissions for knitted and crocheted items, human or canine/feline.  If interested, please just message me on Facebook.
Be Well Friends!
Laura & Bruce
**If you have a few minutes and would like to help support our site in bringing you free and fun knit patterns every day, please click on one or more of the Google Ads on the Spininer's Husband site.  There is no cost for clicking, and it really helps us out!  We thank you!