Knit a New Lunch Bag for Work or Back to School!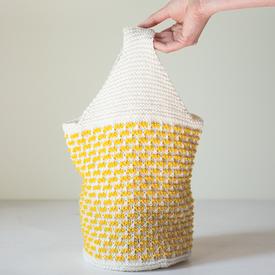 |
This bright and perky knit lunch bag can brighten your spirits or add a smile to a gloomy day!
It is made using a very simple knit stitch pattern, and should knit up quite easily.
With our gremlins or great-gremlins getting read to go back to school, you could make one for them in their favorite color, and while you are at it, make yourself one too.  Change up that lunch tote that you currently use!!
Maybe make a couple, and if possible, try to use up some odds and ends of yarn in your stash for a great stash busting project!
Special thanks to KnitPicks website for sharing this free pattern with us.
To download your own copy of this knit lunch bag pattern, please click here.
Be Well Friends
Laura & Bruce