Knit some Lovely Linen Coasters – Free Pattern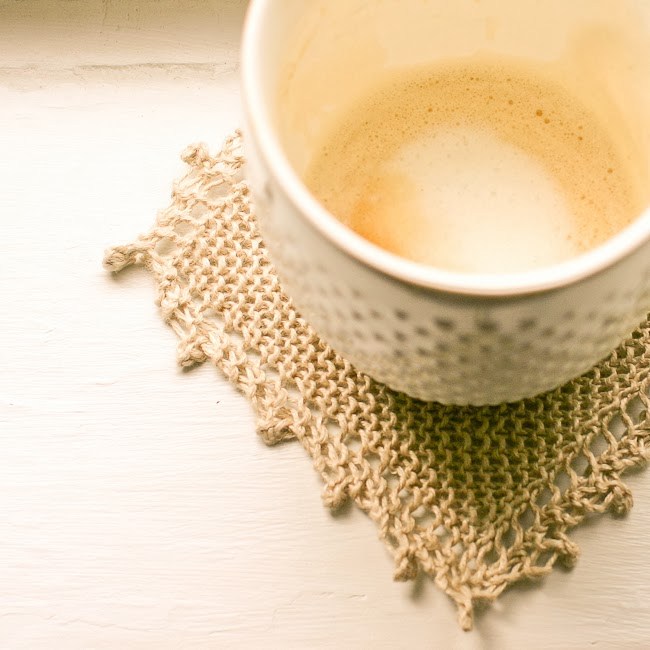 |
I have been so taken with the aesthetically pleasing and beyond beautiful site, Flax&Twine.com by Anne Weil, that I am bringing you with another lovely knit pattern from there today as well.  I am sure that you will love it as much as I do!
It is knit from linen. I don't know about you, but when I hear linen, I think, classy but quaint, stylishly old-fashioned, high society and almost otherworldly.  That's alot to ask of some little knit linen coasters, but I think you will agree that they fit the bill perfectly!
If you frequently knit with linen and have some remnants in your stash, you could make a set of multicolored coasters as well, making this an excellent stashbuster pattern!
These little coasters would make excellent hostess gifts for any dinner parties you may be invited to, a chic gift for a dear friend, or even to start your day off with the warm, fuzzy feeling only hand knits can provoke!  They are small too, so make a bunch for yourself, friends and family!  They will love them just as much, I'm sure!
You can download the pattern for the Knit Linen Coasters by clicking here.
Special thanks to Flax&Twine and Anne Weil for sharing these lovely patterns with us!
Please remember to support our site by clicking on some of the Google Ad links on the Spinner's Husband blog page.  You don't have to purchase anything, just a simple click is all that is needed, to help us to be able to continue bringing you these lovely free patterns.  We REALLY appreciate it!
Be Well Friends!
Laura & Bruce