[Free Knit Pattern] Penguin Keychain Pattern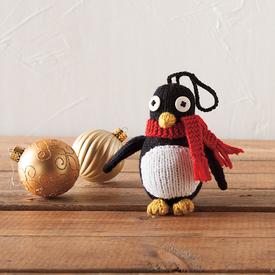 |
Quick Knit! Make some of these Free Knit Penguin Keychains today, and give them as gifties to commemorate this Holiday Season!
Some of our most popular free knitting pattern offerings have been of tiny keychain critters and hearts etc.  When I came across this adorable little guy, I knew that he had to join "the family"!!  He is perfect to make up and give to your friends and family for the Holidays!  He would also make a great little stocking stuffer!  He would make a sweet little ornament on your Christmas tree as well!
He has a crocheted hanging loop on him in the pattern, however you could also shorten that loop and add a keychain ring or carabiner clip instead.  You can customize him for different people by making his wee scarf out of their favorite colors!  He is another project which is a great stash buster!
He is also open for customization to your own liking.  If you would like to make him smaller, just use a lighter weight yarn and smaller needles.  If you would like to make him bigger, ie:  child's toy or huggable, you can just use a thicker weight yarn and larger needles.
Download this incredibly sweet Free Knit Penguin Keychain Pattern by clicking here!  Enjoy!  We would love to see pictures of any that you make, so please send them on in!
Be Well Friends!
Laura & Bruce