Knit These Free Yoga Socks!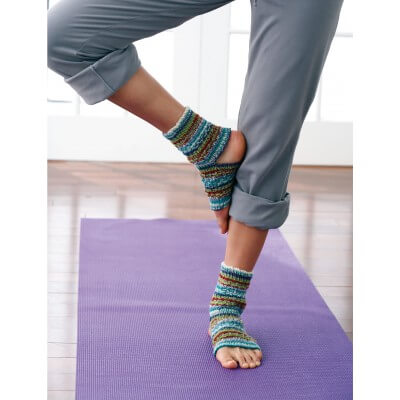 |
I have been researching patterns to knit yoga socks for my sister's Reiki studio gift shop, and wanted to share this really sweet pattern with you!
Making knit yoga socks is much easier than knitting full socks, because the "tricky" areas such as the heel and toes are non-existent!  It's the best of both worlds!  If you struggle with socks, but still find yourself drawn to knitting them, you can make these as gifts for any of your friends or family who are into yoga, and not have to worry about fussing with the heels and toes!  I'm planning to cast on a pair this afternoon after I finish my son-in-law's hat that I made last night and am getting ready to cast off after 2 more rows today.  Another gift down!  Whew!
I'm brainstorming as to the best colors to use for the ones I will be making, as I would like them to be tranquil, serene colors, yet I also like a little pop of the bold in them.  You can also take advantage of them being excellent stash busters to widdle down your sock yarn stash, and use a variety of colors to make stripes in them, or several odds and ends of similar colorways to make them totally one of a kind!  Be sure to save enough of each color that you can make them both the same unless you are looking for a wild and crazy and totally spontaneous look!  If you try to knit them, please let me know what you think of the pattern.  I will be very curious to hear!
Special thanks to Yarnspirations for offering this free knit pattern!
To access the pattern, please click here, and knit yourself or a friend a pair!
Be Well Friends!
Laura & Bruce