Knit this Free Shawl/Scarf Pattern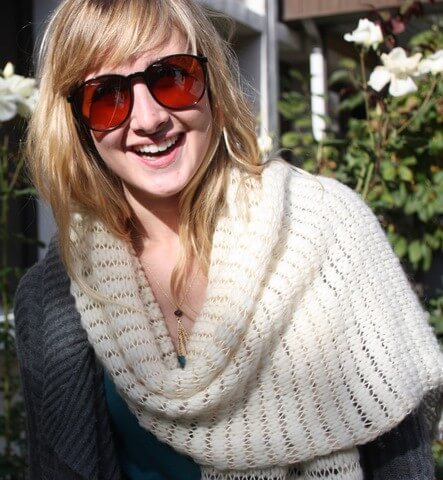 |
Keep your head in the clouds or dream of marshmallows with this beautifully knit Wrapped In Clouds Shawl!
This is an interesting take on a textured knit, as it mixes two different weight yarns to have a thick and thin quality to it and makes it seem even more ethereal than the white fluffy goodness it already is!
It is knit in a soft white in the pattern, but would also look quite stunning in any other color – I'm thinking particularly rich jewel tones would do it for me.  You could also use two colors, one for the thick fuzzy yarn, and the other for the thin cotton yarn for an even more varied contrast in textures and appearance.
You could always use oddments of yarn from your yarn basket and do various colored stripes throughout if you are a fan of the stripe.
It seems to be a fairly quick and straightforward knit – good for nights of TV viewing or evenings of snuggling by a fire.
This is definitely going on my "list" as soon as I dig out from under my Christmas and post-Christmas knitting chaos!  It looks like my wool-room has imploded!
Special thanks to Nisey from NiseyKnits.blogspot.ca for posting this lovely knit pattern!
To copy and view this cloud-soft, free knit shawl/scarf pattern, please click here.
Be Well Friends!
Laura & Bruce
**As previously mentioned we would really appreciate it if you could click on some of the ad links on our Spinner's Husband Blog page, as this is what enables us to continue bringing you extra special and free knit patterns each day!  We also encourage you to look at the Amazon Ads on the side of the page to check out our listings for additional crafting supplies.  Thank you so much in advance for any assistance you can give us in this regard!