Knit Yourself a Treat! Free Bamboo Sweater Pattern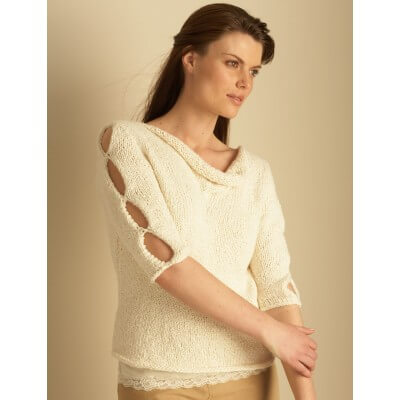 |
I have posted several knit items made from bamboo, and they have all been met with excitement, so here is another.  Bamboo is really an amazing yarn, soft and silky, yet warm and insulating when you need it to be, or light and cooling, because it breathes with you.  It also has antibacterial properties.  If you haven't tried knitting with Bamboo yarn yet, I strongly suggest you give it a try – it's fantastic stuff!
This Bamboo top is a flirty yet classic piece with the peekaboo openings down the arm, and the luscious drape-front neck.  This has been on my list of sweaters to knit for some time now, I just haven't given it the attention it deserves because I have several other projects on the go at the moment.  This is a sweater that both an adult woman and a teenage girl could wear, and it would perfectly suit both looks and styles.
Special thanks to Bernat and Yarnspirations for sharing this free sweater pattern with us!
To download and knit this for yourself or for someone else that you wish to treat to a new sweater, please click here.
Be Well Friends!
Laura & Bruce