Have you ever knitted a Prayer Shawl? (FREE Pattern)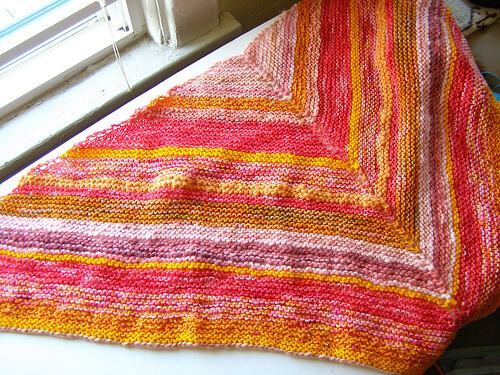 |
Prayer shawls are a way of bringing comfort to those in need of a little warmth and understanding and to soothe a body, mind and/or soul.
This free knitting pattern will make a beautiful Prayer shawl, and it is a fantastic stash-buster too!   The possibilities are only limited by how many different colors and shades of yarn that you have in your stash.
They are also awesome for Senior Care homes, provided you don't make them so long that they can catch in wheelchair wheels!
I also love the idea of doing a portion of the shawl yourself, and then passing it along to another knitter who will think good thoughts for the recipient too, and add some rows from her stash and so on!  The finished Prayer Shawl will then be a surprise for everyone involved in it's creation!
We would love it if you would post pics of any you have made so we can see all the color choices!
Be Well Friends!
Laura and Bruce