Knit this Fascinating Scarf or Wrap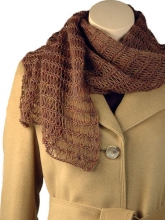 |
This is the perfect time of year to knit this light and lovely scarf or wrap.  You can then have it at the ready when the fall chill begins to permeate the air and leaves you shivering!
I fell in love with this free knit pattern from the moment I saw it!  It is pretty and delicate, and would look absolutely delightful in any color but the brown that is shown in the picture. (I'm not really a fan of brown, so apologies to those of you who are).
Made with either a light and fine merino, an alpaca or alpaca blend, or even cashmere, this knit will be a soft and scrumptious, totally decadent piece of yarny shoulder candy!
Special thanks to Berroco for sharing this beautiful yet simple pattern with us!
You can download the knit pattern instructions by clicking here.
Drop us a line and tell us what color and yarn you are going to use to make yours, and be sure to post pictures of the finished object!  I can't wait to see them!  While you're at it, make a couple for your friends or family.  They are sure to love it too!  It makes a phenomenal gift for someone you care about.
Be Well Friends!
Laura & Bruce
P.S.  I'm so sorry for my absence yesterday.  I was a little(alot) under the weather!  I missed you guys!  I couldn't even find it in me to knit or crochet anything.