Knit Preemie Hat Patterns – Free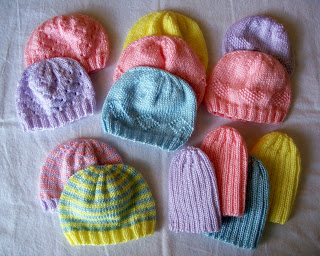 |
I had a request not that long ago by one of our lovely readers named Margaret who wants to get back into knitting, and would like to see some free patterns for Preemie Hats, Sweaters and Booties that she could knit for charity.
We all lose the majority of body heat through our heads, but this is even more so in very tiny babies, and it is critical that they stay warm, because they have enough of a fight on their little hands to begin with!  A soft knit or crocheted hat on a preemie is essential to help keep them toasty warm!
Here I have found a treasure trove of Preemie hat patterns all in one place!  These are terrific stash busters, and can literally save the lives of little ones at risk.  I can't think of a more lovely way of giving back to your community!
Before doing any charity knitting for your local hospital, I would like to suggest that you give them a call to see if they have any fiber preferences as to what type of yarn should be used for the hats.  It will definitely need to be something super soft, as preemies have incredibly thin, sensitive skin, and you don't want to cause them any discomfort with a scratchy fiber!
Special thanks to Carissa  of Carissaknits.com blog for sharing these wonderful patterns with us.
To download and get started making these free knit preemie hats, please click here.
Be Well Friends!
Laura & Bruce