Knit Adorable Bedsocks – Free Pattern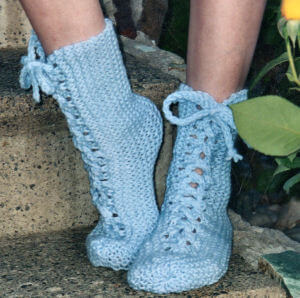 |
As I mentioned yesterday, we've been having an intense run of wild, windy, damp, cold weather with multiple storm fronts moving in one after the other, and it has me yearning and searching for all knit things "warm and cozy".
These knit bedsocks are really, really cute, and just tickled my fancy today, so I thought I would share them with you!
They would also be great to make up for charity to help warm feet and hearts in your community!  Senior homes and hospice organizations come to mind right away when I think of these!
This particular website has a large number of knit and crochet items – some very basic, but also very practical, and a number of them are geared towards charity knitting and crocheting!  If you have the opportunity, it is worth taking some time to browse around the site.  You will find lots of great patterns, and opportunities to use up your partial balls of yarn that you have in your stash!
Special thanks to Bev Qualheim from Bev's Country Cottage for sharing the pattern with us!
To access this free knit bedsocks pattern, please click here.
Be Well Friends!
Laura & Bruce