Knit Some Fun Fish Cat Toys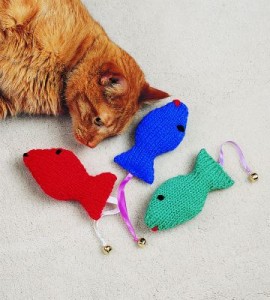 |
New Knit Toys for you Cat.
Right now my cat is playing with a plastic bag and a flashlight.  So to say they love toys is an understatement.
They usually love anything that we knit for them.  In some of the toys we add catnip and this drives them crazy.  We also add a bell to them like this one and they seem to love the noise and always wonder where it comes from.
It is funny as our chihuahua's also love some of these toys and tend to throw them around the house.  They also tend to demolish them, so we are always making new ones.
What you Need:
4-ply worsted-weight yarn—about 20 yards in color of choice (MC) for body of fish and about 1/2 yard each of black for eyes and red for mouth
Size 6 knitting needles
12 inches of 1/4-inch-wide satin ribbon in color of choice
12mm jingle bell
Tapestry needle
Polyester stuffing
Small amount of dried catnip
FINISHED SIZE: Each fish measures about 2-3/4 inches high x 10 inches long, including ribbon tail.