Crochet or Knit Ear Sweaters for Everyone! Free Pattern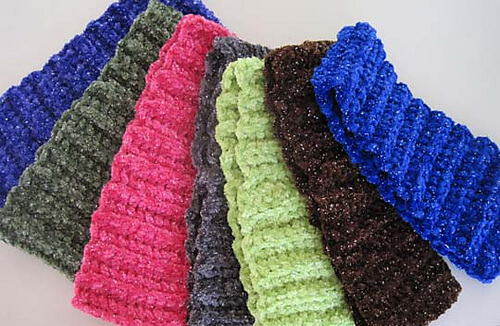 |
When we are out in the weather, the first thing that seems to get really, really cold is our ears!  They are so thin that the cold penetrates right through them in no time.  Keep your ears and your family and loved one's ears warm by making these knit or crochet Ear Sweaters!
I really like the fact that these Ear Sweaters can be made using knit or crochet, because that allows anyone with crafting experience to make them up for everyone in their lives.  They are a quick and easy project, and are immensely helpful in using up the remnants in your yarn stash.
You can make them as thick or thin as you want based on which weight of yarn you use, and if you want them thick but do not have any bulky or chunky yarn leftovers, you can hold 2 strands of yarn together, or even 3 strands together, to make them the thickness you want.  It's a very versatile pattern.
These are also a fabulous thing to knit or crochet for charity, because they are so quick and easy.  They make a great portable project as well, and can be made by beginners as well as more experienced knitters or crocheters.
Special thanks to Kathy North for this Ear Sweater Knit or Crochet pattern!
To download the free knit or crochet pattern, please click here
Be Well Friends!
Laura & Bruce
**If you have a minute you can spare to help support our site in bringing you fun and free patterns and tips, please click on some of the Google Ads on The Spinner's Husband Blog page.  It costs nothing to click, but does help support the site.  We thank you!