Knit a Chunky & Easy Fair-Isle Cowl – Free Pattern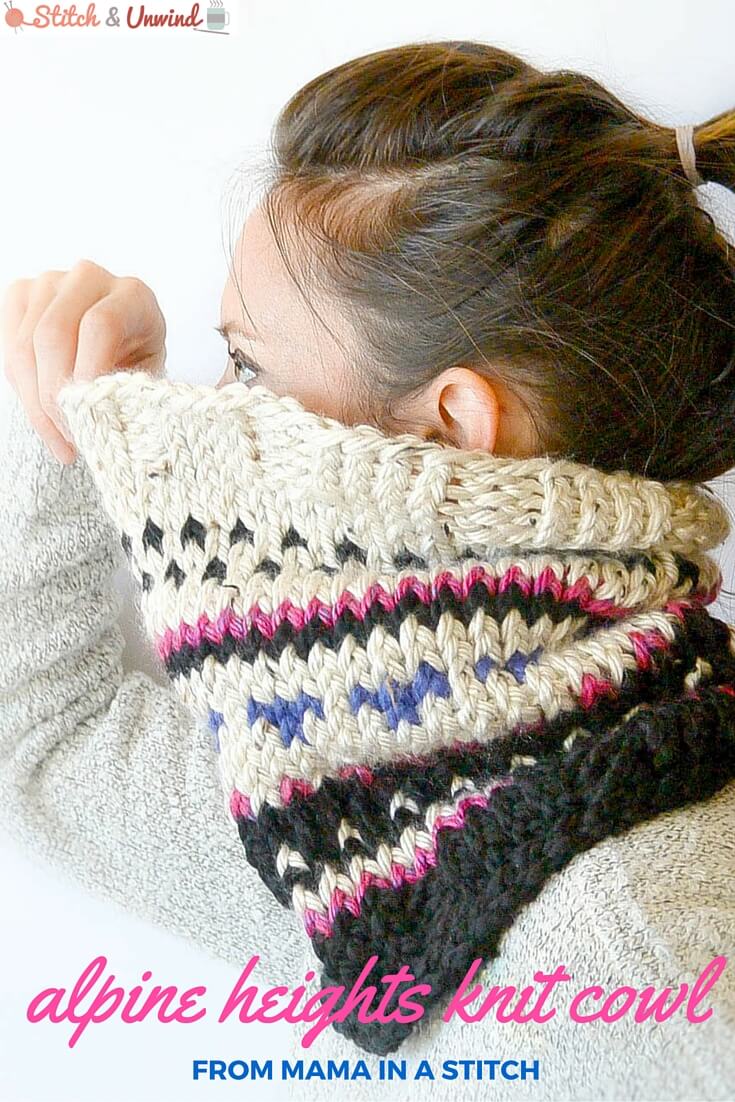 |
If you have never taken the leap of faith to give Fair Isle or multi-color knitting a try, this seems to me to be the perfect knit vehicle to help get you started with the new skill.
This cowl is made using some of the odds and sods and bits of yarn that you likely have hanging around now that the Christmas rush has died down (whew!), and the dust has had time to settle.  Why not take those bits of yarn and re-purpose them into a beautiful new chill chaser?
The pattern calls for very bulky yarn and big needles, so will knit up very quickly once started.  If you do not have any bulky yarn in your stash, you can also hold 2 or 3 strands (depending on type of yarn) of the same yarn together to imitate a bulky yarn.
The instructions for this pattern are easy to read and follow, and if you remember only one thing about Fair Isle knitting, please remember this:  Be sure to watch your tension. Especially when you are carrying multiple colors along the wrong side of the pattern, it is easy to accidentally tighten your grip or pull too hard and you will end up ruching or puckering the knit fabric.  So, just relax, go with it, follow along with the pattern, and know that it's not the end of the world if it doesn't come to you immediately, but also know that the more you practice, the easier it will get.
You may even want to practice doing a few rows of the pattern on some spare yarn until you feel comfortable enough give it a go on the real item.  All roads lead to Rome, so whatever helps you when you are learning new skills will be wonderful.
I can't wait to see pictures of everyone's cowls once they have finished them, and if you could, please also let us know whether you have ever done any Fair Isle or multiple color knitting before this project!
Special Thanks to Jessica Potasz from Mama In A Stitch Blog and Stitch and Unwind Blog for hosting her new cowl pattern.
To access Jessica's free Alpine Heights Knit Cowl pattern, please click here.
Be Well Friends
Laura & Bruce
**If you could spare a moment and would be willing to show your support for this blog that provides you with daily patterns and tips and tutorials, please click on one or more of the Google Ads on The Spinner's Husband Blog.  It will cost you nothing, and will be very helpful to us!  We thank you a great deal!