Paid Pattern for Knit Cardigan – Too Gorgeous!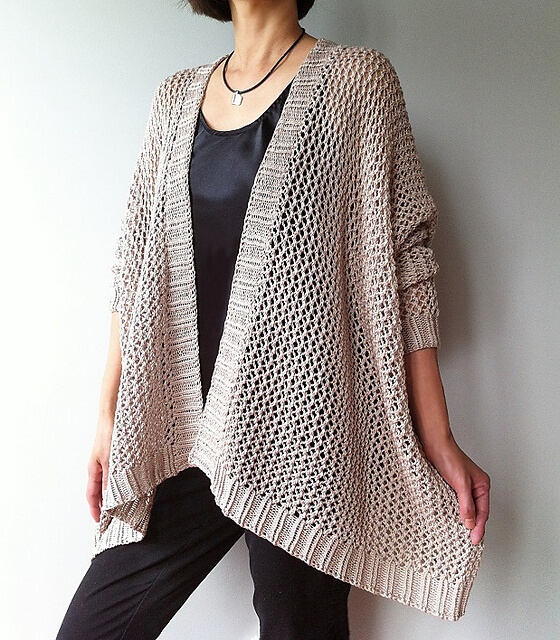 |
As I'm sure most of you know by now, I am a hard-core fan of shawls, wraps, stoles etc, so when I found this easy, trendy knit cardigan pattern, I fell in love with it immediately.  It combines the best of both worlds in a floaty shawl-like appearance with the security of sleeves from the cardigan, so it doesn't require adjusting to stay on, like some shawls do.
I normally only post free knit patterns, however this cardigan is just such a gorgeous garment that I really wanted you to see it too!
If you have some experience designing, you could likely come up with something like this on your own now that you've seen it, and if you are a strictly "by the pattern" knitter, you could maybe splurge a little and treat yourself to the pattern as a Valentine's gift to yourself!  Nothin' says love like all things yarn!
Another reason I love this style of sweater/wrap, is because with the wraparound and "long hangy" effect, it camouflages a multitude of  lumps and bumps and rolls under the garment if you still haven't lost those extra pounds put on over the holidays!  In that, it is a girl's best friend!
Special thanks to designer Vicky Chan for putting her Angelina pattern up for sale on Ravelry.
You can purchase the pattern, called "Angelina" on Ravelry by clicking here, for roughly the cost of a cup of coffee.  It is well worth it!  I'm planning to buy a copy as well, because I see that sweater in my future!  Not sure if I'm going to do the knit or crochet version yet though.  If you wanted to view the "Angela" crochet version also, please click here.
Be Well Friends!
Laura & Bruce
**If you have a few moments you could spare to help us out, we would appreciate it if you could click some or all of the Google Ads on The Spinner's Husband Blog page.  This supports the site in bringing you fun patterns and advice daily.  While you are there,  you can also click on the Amazon ads to stock up on craft supplies or anything else you may want or need.  We thank you!!