Heart on your sleeve? No, knit onto your hat! Free Pattern!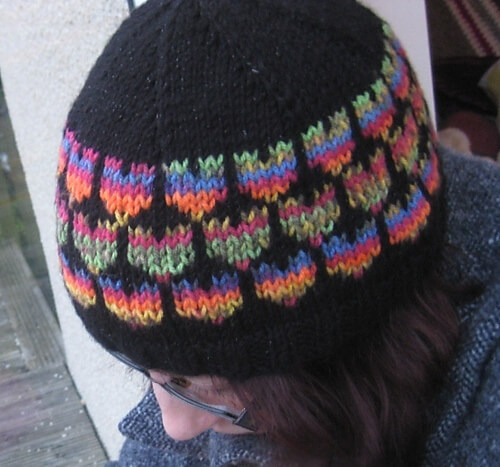 |
The "season of love" will soon be upon us, so it is only fitting that today's knit pattern should be a heart covered hat.
Beanies never seem to go out of style do they?  So you can knit this heart hat for yourself or someone else that you love, without worrying about it becoming obsolete in years to come.
It's a simple beanie knit, and the colorwork hearts are only 5 stitches across at the widest point.  It shouldn't be a challenging knit at all.
I really like what the designer does with the hat and yarn choices in the photo I have included, and that is to knit the bulk of the beanie in black and use a variegated rainbow yarn to make the hearts so that they are all different variations of color.  It looks awesome!  That technique would work for a white beanie with the rainbow hearts too if you give it a try.
Special thanks to Ellen Kapusniak from the StitchGeek.com blog for sharing this sweetheart beanie with us!
To download the knit heart beanie pattern, please click here.  Once on that page, look for the orange Download Now button to access the pattern for yourself.
Be Well Friends!
Laura & Bruce
**If you have a spare minute or two, we would really appreciate it if you would click on some or all of the Google Ads on The Spinner's Husband Blog page to support the site in bringing you fresh, free patterns every day.  Clicking doesn't cost a cent, but does alot of good for the site.  While you are there, you can also check out the Amazon Ads to stock up on any needed/wanted crafting supplies that you see.  We thank you!