Beautiful FREE Waterfall Scarf Knit Pattern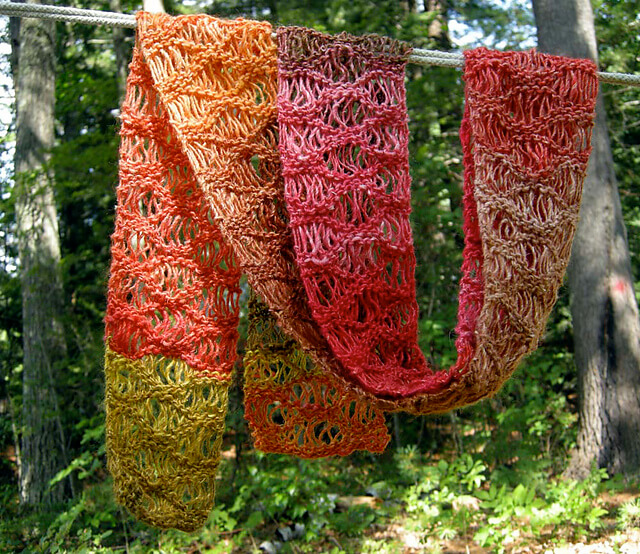 |
It is that time of year, when we begin to ramp up preparations for the Holidays ahead!   Get a jump on your giftie giving by making a few of these stunningly Beautiful Knit Waterfall Scarves for any lovely ladies that you know!
The yarn called for in this pattern needs to be use a yarn that is silky, shiny, slinky, has great drape and is about a DK weight and uses size 7 needles.  When I make mine for the winter, I believe that I"m going to choose Bamboo yarn, as it seems to embody all the characteristics on the  "WishList".  She also suggested that it pairs nicely with a #7 needle, so I will haul out my favorites – my Addi's by Skacel.   IF however, you are planning to use a different yarn than what she recommends, please be sure to go up a size or even a size and a half larger than what the yarn label calls for in order to achieve the slithery, slinky, silky feeling that this scarf evokes.
A very gracious, big thank you goes out to Cosette Cornelius-Bates for the inspiration which has enabled her to create this lovely showpiece.
The Free Waterfall Scarf knit pattern is available by clicking here.   Let us, or just me, know what you think about the scarf if/when you make it.  It is now queued up on my AFTER Christmas list.  My adrenaline is just beginning to shift to high gear, and I fell that the clock is ticking down already, so when things calm down a little, I will for sure give it a try!  If you make yours reasonably soon, please post pics so that we can all admire your gorgeous work and get ideas for other yarns to knit it with.    Please give us the names of the yarns you used, and a special quality about that yarn, so we can compare notes!
As always, we are here for any questions that you may have, and if we don't know the answer, we will search until we do!
Be Well Friends!
Laura & Bruce