Free Crochet Pattern – Feeling a little Racy??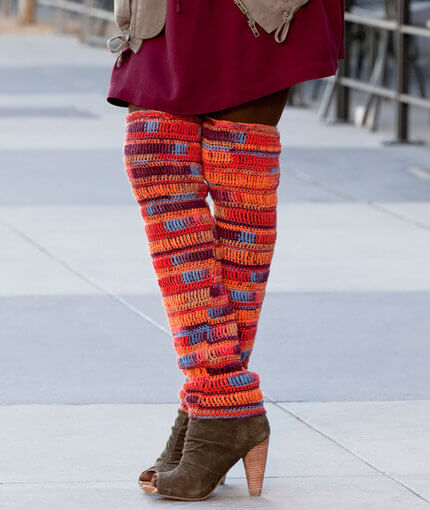 |
Beat the fall/winter chill by crocheting this Free Thigh High Leg Warmers Pattern!
Can anyone say Ooooh La La?!!  Where can I get some of those?  That's what your friends will be saying when they see you rocking your Thigh High Leg Warmers all toasty warm, as the wind whips mercilessly around them, chilling them to the bone!  Their jaws will drop further when they find out you made them yourself!
You can have a lot of fun with them too – just think of the dozens of colors you can make them in, use a holiday yarn for a hint of sparkle, or a riot of colors on the same pair!  I am also imagining a nice understated pair done in soft grey or black.   They would be both warming and slimming on the leg.  That's a Bonus!  You can also make them a little longer if that is your preference, just add a few more rows before finishing.
They would also be great to use for kids taking figure skating or ballet and dance, because they provide much more warmth than a regular pair of leg warmers would when pulled over the tights that they already wear.
Winter play becomes much more fun too, when you are not freezing.  I suggest putting a pair under a snowpants or snowsuit for an added layer of warmth!
They are perfect Christmas gifts too!
To grab the free pattern for these Thigh High Leg Warmers, please click here.  Above all, have some good fun with them!
Be Well Friends
Laura & Bruce