Crochet this Chunky, Soft and Squishy Cowl in 30 Minutes!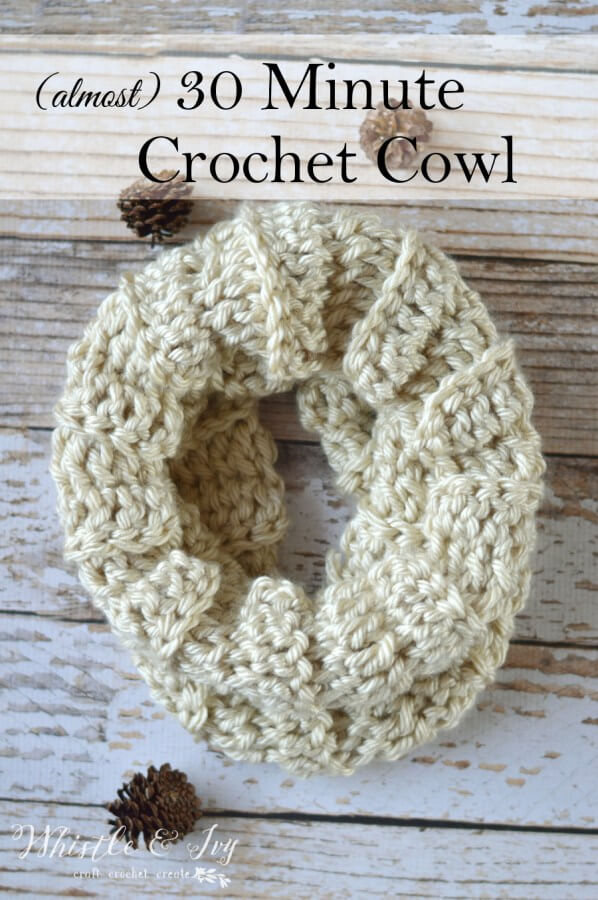 |
With dipping temperatures everywhere, a cowl is quickly usurping the diamond as a girl's "best friend"!  They always like to hang around with you, they are never busy, they give shelter from the storm, and as many soft and squishy hugs as you may need!  Today's crochet pattern is for a cowl just like that, and best of all is that it can be made in around 30 minutes flat!
What more could you ask for?  The designer calls for a chunky weight yarn, and she suggests Lion Brand HomeTown, but you can crochet the cowl any type of chunky yarn that you feel will be comfortable around the sensitive skin on your neck.
This would also be a great cowl to showpiece any handspun chunky yarn that you may have, for a more unique, OOAK look!
I am really glad that I found this pattern today, because I was just thinking of making something new for my girls, and voila!  This is it!
Special thanks to Bethany from Whistle and Ivy Blog for sharing this great crochet in 30 min cowl pattern with us!
For the instructions on how to crochet this quick and easy cowl, please click here.
Be Well Friends!
Laura & Bruce
**If you have a few moments to spare, could you please support this blog in bringing you fun and free patterns and yarn advice daily by clicking on some or all of the Google Ads on The Spinner's Husband blog page?  It costs nothing for you to click them, and helps us a great deal!  We thank you!!