Crochet this Free Shawl Pattern!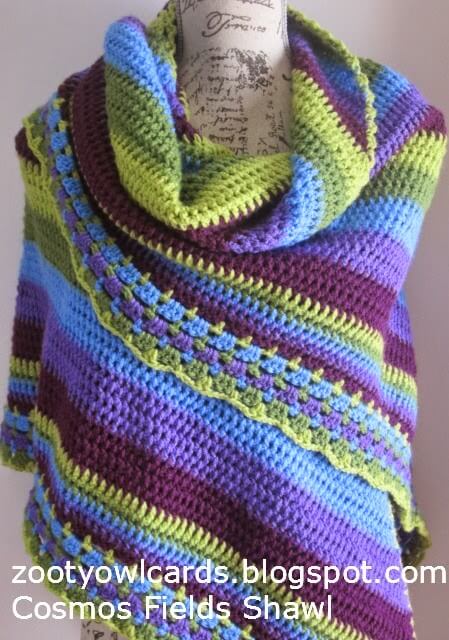 |
It would appear that I am a bit of a shawl "fiend".  I love looking at shawl patterns in both knit and crochet, I love making shawls out of various yarns, specialty yarns included, and I love picking up and admiring the finished product, and I also love giving them away to the person they are meant for!
This is a really nice crochet shawl pattern which I have come across tonight.  I plan to start making it with some yarn I just got in, and thought I would share it with you also, in case you enjoy shawls almost as much as I do!
It is a fairly easy crochet shawl, which is great for novice crocheters, and I will also be on standby if you need a hand with it, because I will be making it too!  The color scheme on this shawl is gorgeous, and I will be trying it in that colorway at some point, but for now, I'm going to use a lovely moss green, plum, yellowish colorway that is all contained a variegated yarn that I just ordered in and adore.
You can also use leftover yarn from your stash and make a random rainbow style shawl with many colors, so in that, it could also be an excellent stash buster!
Special thanks to Zelna Olivier from ZootyOwl's Crafty Blog for sharing this lovely free crochet shawl pattern with us.
To read over the crochet shawl pattern, and start dreaming of your perfect shawl, please click here.
Be Well Friends!
Laura & Bruce