Crochet a gift for your Baby Bottles – Free Pattern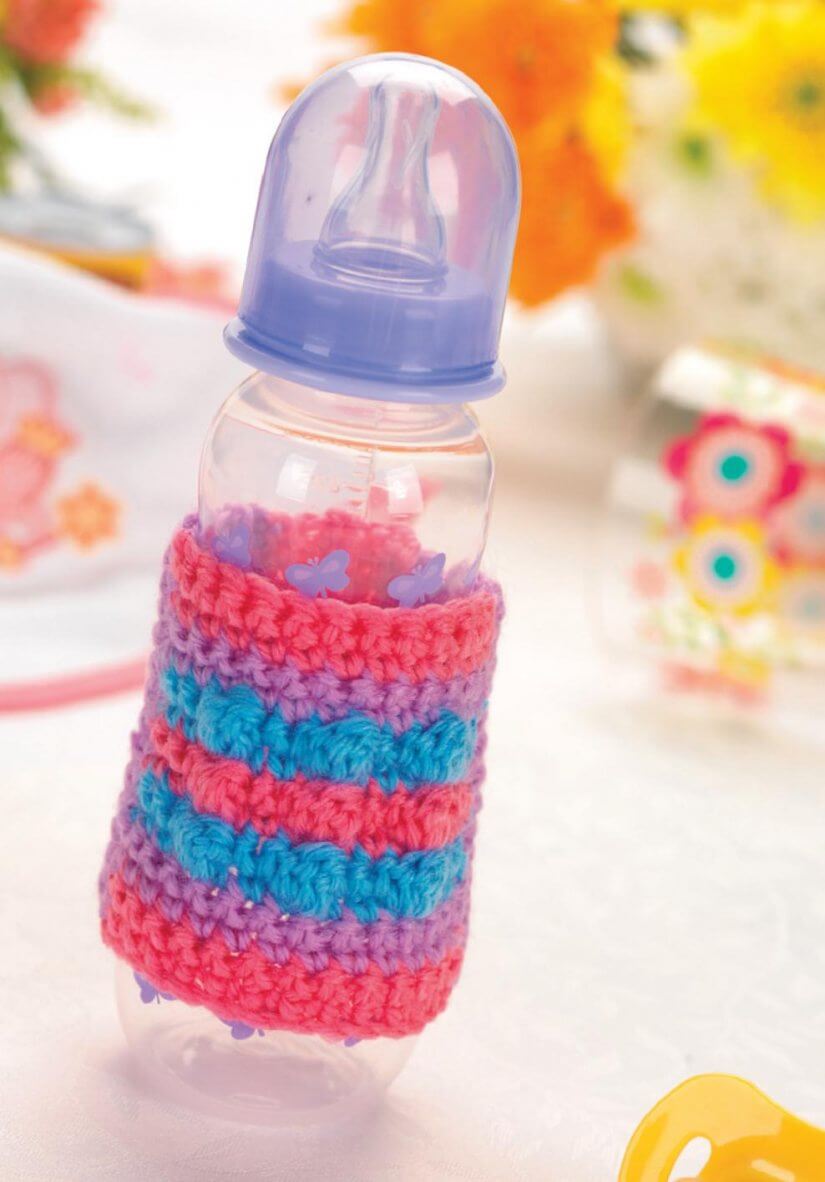 |
These days, it seems that everyone is crocheting and knitting cup cozies or sleeves to put on their coffee and tea cups.  This is an adorable crochet twist to that concept!
This crochet baby bottle cozy is just the cutest thing, and so very practical too.  Little hands that are just learning how to hold their bottles themselves will find it much easier with a piece of crocheted fabric around it instead of just slippery plastic(BPA free please) or glass, and the insulation provided by the sleeve will also aid in keeping baby's bottle warmer for longer!  What a brilliant idea!   My 7 yr old granddaughter has long since given up the bottle, and there are no little people on the horizon that I can see, so the next time there are "little feet" pattering around my house, I'm going to whip some of these up.    I love them!
This is another of my super stash busters, so you can use up any small yarn remnants in your yarn stash!  I am thinking I would probably do it in a nice soft cotton, bamboo, or merino.  With the merino, unless it is superwash(washing machine friendly), you would get a nice little felting on the cozy as well, which would be just as sweet!
Special thanks to Topcrochetpatterns.com for this phenomenal idea!
To view the free pattern for these crochet bottle sleeves, please click here.
Be Well Friends!
Laura & Bruce
**As previously mentioned we would really appreciate it if you could click on some of the ad links on our Spinner's Husband Blog page, as this is what enables us to continue bringing you extra special and free crochet patterns each day!  We also encourage you to look at the Amazon Ads on the side of the page to check out our listings for additional crafting supplies.  Thank you so much in advance for any assistance you can give us in this regard!