Crochet This Free Shark Pattern!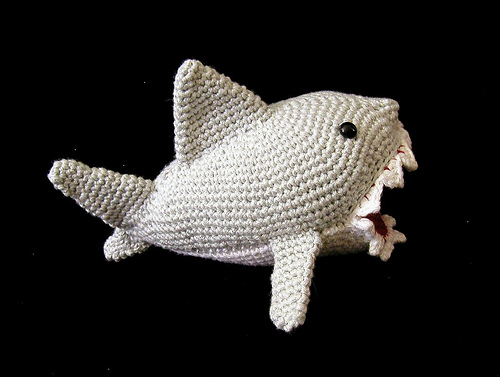 |
Hello Fellow Crochet Fanatics!
I have missed you all here on our crochet page indeed, but have had to focus all my energy on my current health situation, and just trying to function day to day, the best way I can.
I will keep trying to post more often, but hope you will please forgive me if I should leave any gaps in time.  I'm sorry!
From what I have noticed, while I've been away ill, there seems to be a growing interest and spike in Mermaid and Shark crochet patterns. I promise I will get to the Mermaid and Shark blanket crochet patterns out to you in the next few days, but for tonite, I have a special guest for you to meet!  Just be sure to keep a safe distance until you get to know each other a little bit better!
I found this little guy last night while passing some time surfing, and found him just adorable!  I thought he would be a great wee fellow to get the page started with again.
To download this free shark crochet pattern for a little one in your life, or to hang on your rear view mirror or somewhere else prominent, please click here!
Be Well Friends!
Laura & Bruce