Crochet this "Not Knit" Cowl for the New Year – Free Pattern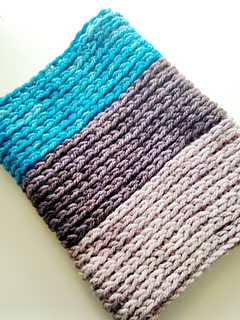 |
If you are like me and plan to bypass all the fuss and hoopla of New Year's Eve, and see in the New Year with the comfortable companionship of your hook and yarn, perhaps this Free "Not Knit" Crochet Cowl pattern is just the project that the occasion calls for!
If you are able to crochet but do not yet know how to knit, but love the look of knit garments, the stitch used in this cowl may just become a regular part of your needlework bag of tricks!  It is accomplished by crocheting into the "third loop" of each HDC (half double crochet) stitch, and the author provides you with a link to a great tutorial on what exactly that means if you do not already know.  There are also kits available for this project by following the link on the Ravelry page to Lucky Ewe Yarn's site.
This project also makes an excellent stash buster, and could be made up to donate the finished project to charity as well.
Special thanks to Benjamin Matthews of Lucky Ewe Yarn for sharing this Free "Knit Look" Crochet Cowl pattern with us on this, the last day of 2015.
To view this "Not Knit Crochet Cowl" pattern from Ravelry, please click here.
HAPPY NEW YEAR!
Be Well Friends!
Laura & Bruce
**As always, we could really use your help, and would appreciate it if you could click on some of the ad links on our Spinner's Husband Blog page, as this is what enables us to continue bringing you extra special and free crochet patterns each day!  We also encourage you to check out the Amazon Ads on the side of the page for additional crafting supplies.  Thank you so much in advance for any assistance you can give us in this regard!