Crochet a Bandit Pattern!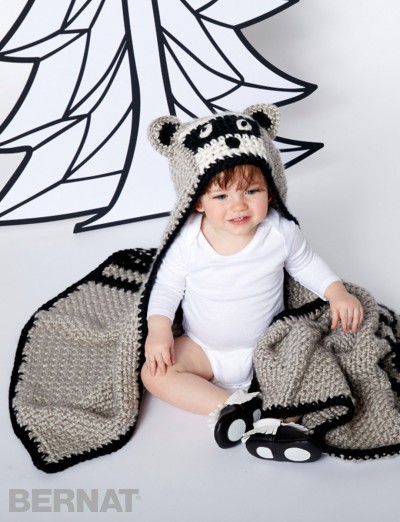 |
I have a confession to make – I love raccoons!!  Now you can crochet a hooded raccoon blanket/towel for your young child to cuddle up in!
I know a lot of people may dislike raccoons because given the right circumstances, they can be mischievous, and sometimes destructive, but I personally have several generations of raccoons that live nearby that come to visit me on a nightly basis, and I know it is not recommended, but I feed them.  The year's nursing mothers also come to see me in the morning, and sleep patiently on the crochet mat that I have at the front porch until I get up and give them a little morning "top up" snack before they go home to tend to their babies again.  I also put fresh water out multiple times daily so they can quench their thirst.  AND speaking of the babies, I just got to meet the 3 youngest members of the pack this year, and are they ever as sweet as sweet can be!
So, now knowing that about me, you will not be surprised that when I saw this cute little raccoon blanket or towel pattern, I just had to share it with you!  It would be an excellent after bath towel too, if made with cotton or microfiber yarn so that it is absorbent!
Special thanks to Yarnspirations for sharing this free crochet pattern with us!
To download this raccoon blanket crochet pattern, please click here.
Be Well Friends!
Laura & Bruce