Watch out for the Draft Snake [Free Crochet Pattern]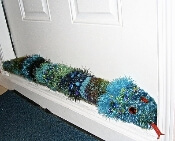 |
Many of us cannot abide the thought of a snake, especially one that lives right in your house!  However, this special little snake will help you to cut down on your electricity bill, and if he brings a friend, spend hours amusing your children also!  Win/Win!!!
It seems that we are always and forever on the hunt to save our resources such as electricity, heat, fuel, etc.  One of the best ways to do this is to make sure your doorways and windows are well sealed.  If however, in spite of your best efforts, a draft manages  to wend it's way into your house and leave you chilled, just call on your trusty Free Crocheted Draft Snake, and put him to work!  He can sit at the base of a door, on a windowsill, and wherever else you may need him to be, filling in the breach so that you and yours are not shivering all winter.
Kids absolutely love playing with these also – they remind them I think, a little of the snakes that they can "win" when the carnival comes to town and they trudge over clutching their pennies in their wee hands, eager to see if they are a winner!  If you make one for your child, or a child you know, they will have twice the pleasure, because this guy will not fall apart like "Fair snakes" do.
They are also great stash busters and can use up multiple piles of your stash, thus creating a second Win/Win scenario!  Saves money without costing you money!
Special thanks to Vashti from her site Designing Vashti for this lovely free crocheted Draft Snake Pattern!
Dear Reader, I would like to introduce you to the Free Draft Snake Crochet Pattern!  I am sure you will be best friends before too long, and unlike his scaly counterparts, this little guy is all about frugality, love and squooshy softness!

Be Well Friends

Laura & Bruce