Crochet Some Toasty Warm Eskimo Boots! Free Pattern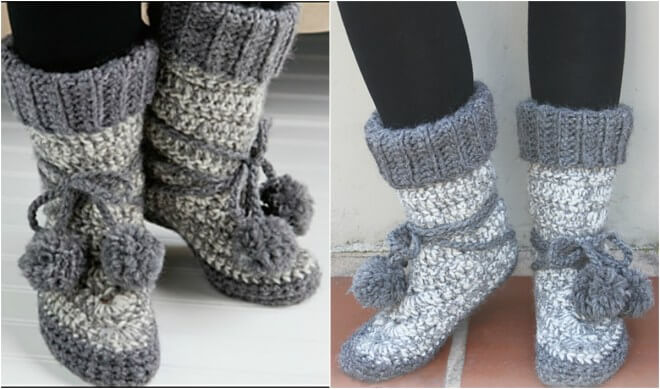 |
Who among us actually likes cold feet?  I hate them, and do everything that I can to prevent them from becoming chilled.  That is where these gorgeous squishy soft crochet boots come into play.
These stylish, thick crochet booties will protect your feet from chilly temperatures and keep them as warm and cozy as can be!  It is a pretty straightforward free crochet pattern, and the page also includes a free video tutorial on how to assemble the pieces once you have made them.
I can see these made in one color for a classic look, or with stripes of brightly colored yarns as well, making it an excellent stash buster!
This is a must-make pattern if you want to be on good terms with your feet!
Special thanks to DIYSmartly for sharing this free pattern and tutorial with us!
To view this free crochet project, please click here, and scroll down a ways to the "<<free pattern download>>" link below the assembly video to the right for the actual pattern.
Be Well and Be Warm Friends!
Laura & Bruce
**If you are so inclined, we would really appreciate it if you could click on some or all of the Google ads on the Spinner's Husband Blog page to support the site in bringing you the best free crochet patterns daily.  While you are there, you can also check out the Amazon ads to the right of the page to stock up on any needed craft supplies or anything else you may want!  Thank you!