We could all use little warmth – FREE Crochet Shrug Pattern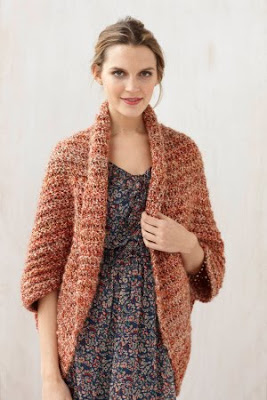 |
If you are sensitive to the changes in temperature and get chilled easily, this lovely free crocheted Shrug Pattern is just the thing for you!
I have made several of these when I am in the mood for a simple beginner's pattern, which is perfect for watching TV, visiting with friends and chatting while crocheting if you have the need to keep your hands busy like I do!
It is made from single crochet stitches, yet looks wonderful and is an easy on and off garment.  As an added bonus, this shrug discreetly covers one's bottom, but if you would like it a bit longer still, just add some additional stitches when crocheting the beginning chain.   Think of it as a type of shawl with sleeves!  You can even dress it up by using a wool that has sequins or sparkle to it for a dressier look.
I made the first one that I ever made for a friend of mine who was going through chemotherapy several years back.  She had told me that she got chilled very quickly, and that she needed something easy to wear on "chemo days" as well.  She loves hers and wears it all the time!
It is a Lion Brand pattern, however I was able to locate a picture(step) by picture(step) tutorial for it on The Crafty Novice blog.
Thanks so much to Kerry for the work she put into her awesome tutorial to help others make this shrug.
To view the tutorial for this simple shrug, please click here.
If you make one for yourself or a friend or family member, we would love to hear from you and/or see photos as always!
Be Well Friends
Laura and Bruce