Crochet A Beautiful Off-The-Shoulder Top!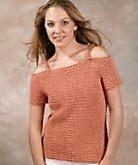 |
If it's summer where you are, you know how blazing hot it has been.  This crochet top is perfect for this kind of weather!
Made in a lovely cotton, the Off-The-Shoulder Top crochet pattern has thankfully been provided for us today by Coat's & Clark.  The cotton will keep you cool while making it, and even keep you cool while wearing it!
If you wanted to, you could even adapt it for winter wearing by lengthening the sleeves!
It also isn't your typing "off-shoulder" top, as it does not rely on "gravity" to hold it up while leaving your shoulders bare, but instead has a little set of straps built in so that you will have no surprises while wearing it!  EEEEP!!
To crochet this elegant and cool Off=The-Shoulder Top, please click here.
Be Well Friends!
Laura & Bruce