Crochet This Gorgeous Gold Shimmer Shawl!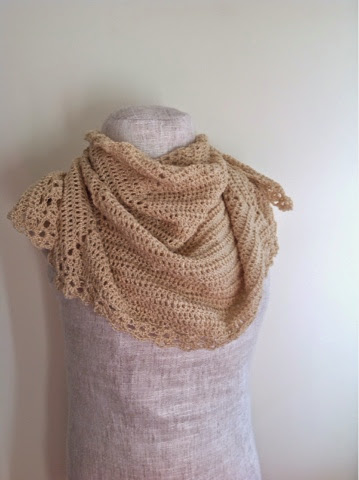 |
I cannot say enough about how pretty this crochet Gold Shimmer Shawl is!
I am going to start making one today.  I was looking for my next project, and just got a huge order of yarn in from Turkey, and one of the bags is full of a neutral soft beige-ish yarn with tiny sequins in it, which will be absolutely perfect for this shawl!
Shawls are a great go-to garment to have on hand during the summer, because you can be scorching hot outside, and then all of a sudden end up in a building that is air conditioned to arctic-like temperatures!  This crochet shawl will fill the bill perfectly!  Not too bulky as to be overwhelming, or overheating, not too flimsy to be pretty much useless.  I'm really excited about it!  When I finish it, I will post pictures so that you can see it, and will likely put one or two up for sale if anyone is interested, just let me know.  If you try out the pattern, I'd love to see pictures of your finished shawls too!  It is always great inspiration to see them done up in other colors than the original as well – I'm sure some of you must have the perfect yarn just waiting for this project in your stash!
It would be a great shawl to wear over the Christmas Holidays too, for parties and entertaining and such, because of it's understated glamour.  It would also make a fantastic Christmas or anytime gift for someone you know!
You can download this fantastic crochet shawl pattern by clicking here.
Special thanks to Alyssa Titus of Undeniable Glitter for sharing this pattern with us today!  It's a winner!
Be Well Friends!
Laura & Bruce
Please click a few of the Google Ads on our Spinner's Husband Blog page to help keep this site free for everyone!  There is no obligation to purchase anything – a click is very helpful in and of itself!  We really appreciate it!