Crochet this Free Grinch Pattern!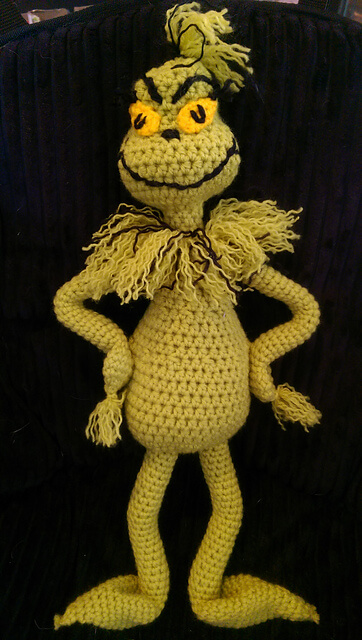 |
He's a "mean one", it's true, but he has also successfully wormed his way into the heart of Christmas, and just as Christmas wouldn't be Christmas as we know it without Santa Claus, it wouldn't be Christmas without the Grinch lurking around the sidelines either!
When I was looking for a pattern to post for you today, I asked my 19 year old son, and this was his idea – and it's plain to see that he gets his smarts from me!!!  Tee Hee!!  It was a great idea, and now without further ado, here is a free pattern for a crochet Grinch toy.  Hopefully you can find the time between now and Christmas to make one for your family, or make one after Christmas for next year!
Special thanks to Colleen Hays from YarnWars.com for sharing this free crochet pattern with us!
You can access the web version of the crochet pattern by clicking here and scrolling down, and you will find it a couple of paragraphs later.
Be Well Friends!
Laura & Bruce