Crochet this Gorgeous Open Air Shrug!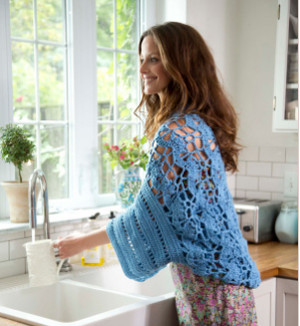 |
This crochet shrug is a definite show-stopper!
It is relatively simple to crochet, yet gives the appearance of a light and lacy dream garment!  Makes you  feel like a princess when wearing it!  (Even while doing chores!)  In the pattern, it is crocheted in a cotton yarn, however I think it would look great in any cotton blend, bamboo or silk yarns as well, or even a nice soft merino or merino blend when you crochet one for the winter seasons too!  (and I'm sure you will!)  It is the best of both worlds, it is drapey like a shawl, but has sleeves, so eliminates the need to hang on to your shawl tips so they don't blow off in a wind!
You could also use it as an excellent stashbuster and use your yarn remnants of similar weight for a rainbow or multi-colored effect.
This lacy shrug would also make an awesome gift for a friend or family member – may be a good idea to make a few for Christmas or Holiday giving!  The lucky recipient(s) will surely thank you when they see the drapey beauty of the gift you have given them!
I know that this shrug just landed itself on my list of "to make" items, how about you?  What color do you see it for yourself in?  Mine would be a shade or shades of purple of course, my absolute favorite color!
Special thanks to All Free Crochet .com for sharing this incredible pattern with us today!
To get starting on making a crochet copy of this pattern, please click here!
Be Well Friends!
Laura & Bruce