Crochet Celestine Toy/Ornament – Free Pattern!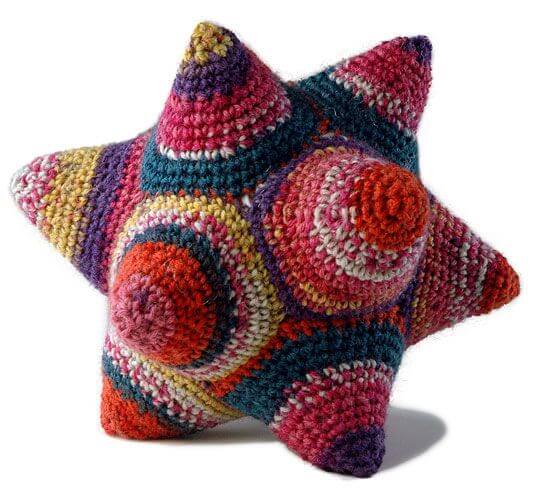 |
This is a multipurpose crochet item.  It can be used as an ornament, or a fascinating toy for a baby or toddler.
I'm not quite sure what exactly to call it, and there are not a whole lot of words I can find about this Celestine Crochet pattern, but I love how it looks!  You could make it and give it to a younger child in your life, or you could put a little loop on it to hand as an ornament for your Christmas tree or elsewhere.
It could also be used as the topper on your tree, because it does resemble a star in a "dodecahedron-ish" sort of way!
It just occurred to me that my cats would probably love it too, if I "sweetened" the deal with a little catnip whilst stuffing, so I'm sure your kitties, or a kitty cat in your extended family would as well!
I also think it's a marvelous stash buster, as it uses a number of colors of sock yarn, however it could also be made as a single color if you prefer, or if you have a specific color scheme for your Christmas decorations, as some people do, or all in yellow if you intend to use it as your Christmas Star Tree topper.
Special thanks to Berroco Yarn for sharing this free dodecahedron crochet pattern with us.
To access the pattern for this pattern for the Celestine Crochet, please click here
Be Well Friends!
Laura & Bruce