Crochet These 3 Free Patterns for the Summer!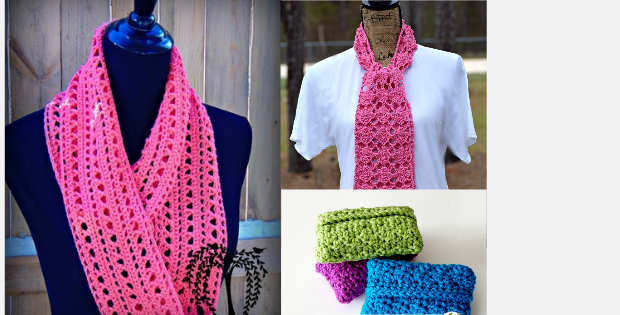 Hello and Happy Tuesday, Fellow Crochet Fanatics!
I have been feeling terribly guilty at not posting for such a long time, and wanted to reward your loyalty and patience today with a "3-Fer" of crochet patterns, 2 of which you can integrate into your summer wardrobe, and one that will take it's place of honor and convenience in your pocket or purse!
The first two crochet patterns are for lovely, light crochet summer scarves.  Easy to make, a beautiful sight to behold, and a lovely complement to your summer clothing!
They say that they are both made using cottons, Pima cotton etc, but I'm positive that you could make them out of Bamboo or a lovely silk blend yarn, or linen too, just to "class things up" a little!  Don't get me wrong, cotton is great!, but sometimes we just want that little extra "oomph", and moving to luxury fibers always does the trick!
These scarves are so nice, you could make several in many colors, give them as gifts, or use them as a great and gorgeous stash busting project if you stripe or color block them!
The first summer scarf pattern to crochet can be found by clicking here.
This will take you to the Elk Studio website.  Be sure to take a minute or two to look around the site because they have very very many gorgeous crochet patterns, and some of them are even free!
The second crochet summer scarf pattern can be accessed by clicking here.
That link will take you to the Country Willow crochet website, and you can have a look around there for other patterns that get your mojo going if you are so inclined!  This scarf is made using the full length in the first row, and then just completing each row long-ways which means there will be a lot of stitches to contend with in the beginning, but don't fret! It takes so few rows to complete when making it this way, that you will be finished in to time and wearing your gorgeous new scarf!  As with the other scarf, you can substitute any other Spring or Summer yarns that strike your fancy!
Last but not least, we have a pattern that will go straight into your purse, pocket or pocket book once completed.  It completely solves the issue you can sometimes have in keeping your tissues clean, dry and neatly folded in your purse as opposed to pulling out little wads of crumpled tissue and trying to use those.  It's a quick and zippy little pattern, and I'm sure you will love it!  While getting myself a glass of milk and pondering the pattern, it just dawned on me that if you put some little snaps or fasteners (buttons etc.) on the overlap section, it would make a cute little coin purse as well!
To access this free crochet tissue cover pattern, please click here.
I hope you enjoy the 3 options I have given you today, and hope to write to you tomorrow!
Please also stay tuned for our exciting Summer Season Giveaways, coming soon to a computer near you!!!  I am holding off on beginning the contest until we get the majority (or more) of our readers back, so share, share, share our link with your friends and family that are interested in the fiber arts!
Please also remember that clicking on some of the ads on our Spinner's Husband Page helps us to keep bringing you these free patterns and tips and techniques!  You don't even have to buy if you don't want, but please be sure to click and have a look at a few(or more) for us each day!  We truly appreciate it!
Be Well Friends!
Laura & Bruce

About The Author
Laura and Bruce
To say simply "We Love Yarn" would be a serious understatement. My wife has been into Crocheting, Knitting and more recently Spinning for as long as I have known her. I on the other hand, am a computer geek who loves woodworking.