Knit Somebunny to Love! Free Pattern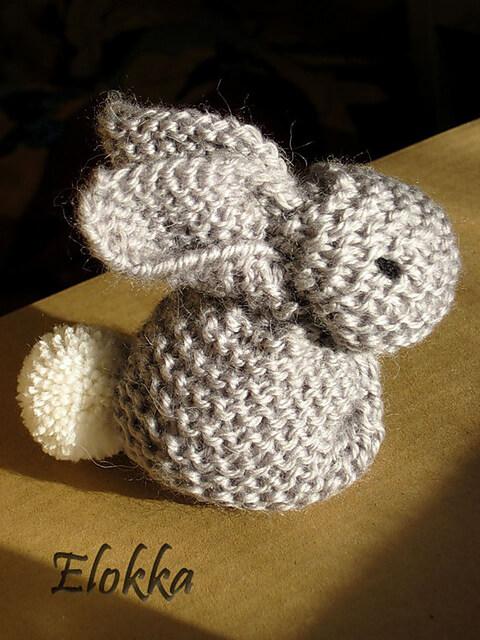 |
I know we are a ways away just yet, but Easter will be here sooner than we expect, the way time is just flying lately.  Every year I tell myself that I am going to get ready for special events like Easter and Valentine's day well ahead of time instead of wearing myself ragged in the last minute rush of trying to get a million somethings done, so that I have time to actually enjoy the special occasion too, however that is not always the reality.  So, with that in mind, when I saw this little free knit bunny photo tutorial, I thought that it would be perfect to get a head start on them bunnies for Easter!
These little guys are so cute – but so simple it's almost criminal!  If you can knit a square, you can make a bunny!  Seriously, it's that easy!  I am not going to restrict my gifting to little people, but rather all sorts of people that I am fond of.  Everybody needs somebunny to love!
These little guys are great little stashbusters, would look adorable in all colors, and it was also suggested in the comments section of her blog that it would be a phenomenal way to use up all your old swatches that are hanging around from previous knitting projects, because all you need to make a bunny is a square – which is what a swatch is right?  Great idea!
Special thanks to Artsy Fartsy Mama and her Jo So and Sew blog for sharing this free knit bunny pattern with us, and to the Steiner School group for sharing it with her!
To view the step by step photo tutorial of these adorable knit bunnies, please click here.
Be Well Friends!
Laura & Bruce
**If you have a spare moment or two, we would like to request that you help us to support this site by clicking on some of the Google Ads on the Spinner's Husband blog page so that we can continue to post special free knit patterns every day.  While you are there, you could also check out the Amazon Ads on the right hand side of the page to stock up on any crafting supplies or anything else that you may want or need!  We thank you!