Knit, Don't Bake this GingerBread Man – Free Pattern!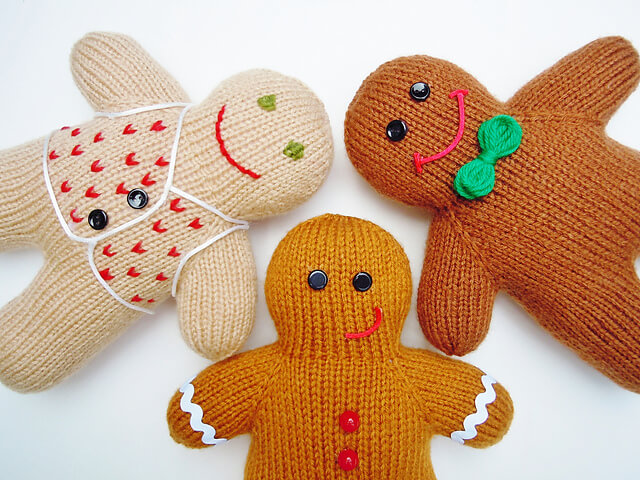 This is just the cutest little knit Gingerbread Man pattern that I have seen, so I knew that I just had to share it with you!
This pattern can be used to knit a garland of gingerbread men for a special occasion, or as an amazing prop when teaching your little ones the rhyme that goes with it!  I can't imagine a child alive who would not want to receive this cute little fellow as a gift!
Other than the main color if you wish to maintain the classic Gingerbread Man look, the decorations will use lots of odds and ends of scrap yarn, which of course makes it an excellent stash buster as well as a fun and creatively permissive pattern!
It is knit in the round on double pointed needles, and the creative license enters when it's time to decorate him!  You can truly allow your imagination to run wild!  Make several, all with different looks – especially if you have more than one little person in your life who may be receiving one!  That makes it easier to tell them apart and nips the inevitable "that's mine" battles in the bud quite quickly!
When embellishing your Gingerbread Man, if using plastic eyes, buttons etc., please make sure that they are tightly sewn on and reinforced, and that safety eyes or embroidery as opposed to googly eyes are being used, and that there are no other potential choking hazards.  I would suggest that you tailor the embellishments to the age of the child to ensure safety of play.
His size will be determined by your choice of yarn and/or needles, but you will want to knit him with a snug enough fabric that the stuffing isn't visible through the stitches!
Special thanks to Sara Elizabeth Kellner and Rabbit Hole Knits for this adorable knit Gingerbread Man pattern!
To download a copy of this free knit pattern from Ravelry, please click here.
Be Well Friends!
Laura and Bruce
**We would like to kindly request that you help support our site by clicking on some of the Google Ads on our Spinner's Husband Blog page.  This will enable us to continue bringing you fresh knit and crochet patterns every day.  While you are there, you can also check out the Amazon Ads on the right hand side of the screen to locate and purchase any crafting supplies(or anything else) that you may need!  We truly appreciate your help with this!

About The Author
Laura and Bruce
To say simply "We Love Yarn" would be a serious understatement. My wife has been into Crocheting, Knitting and more recently Spinning for as long as I have known her. I on the other hand, am a computer geek who loves woodworking.