DIY Arm Scarf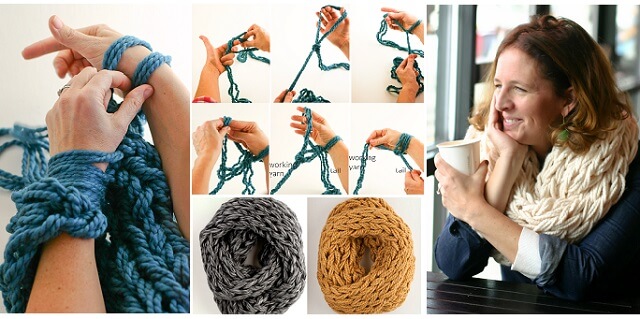 |
Ever wanted to try Arm Knitting?
Anne puts together a good video on arm knitting.
At the end, you will have a nice scarf to ward off the winter winds.
Winter is coming and a lot of us are wondering what we will do to wear in order to be fashionable and protect ourselves from the cold at the same time. If you weren't a DIY enthusiast until now, you will change your allegiance after you see this cute and useful project. We present the Knitted Scarf which will save you from a nasty sore throat during this cold season. With an accessory like this you will not just be warm but also look trendy. And this isn't the only impressive thing about the scarf. The tools being used in the manufacturing process are your own hands! So, don't wait until the harsh weather and snow has already hurt your skin, throat or neck. Literally put your hands to good use and knit a simple DIY scarf.  The photos in this collage belong to Anne Weil (flax and twine).
Arm Knitting for Beginners