Dyeing for Pretty Colors – The Art of Dyeing with Koolaid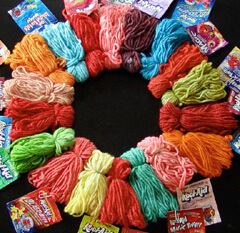 At some point during a knitter or crocheter's yarn life, they toy with the idea of dyeing their own skeins of yarn for a custom look or color combo that cannot be had elsewhere.  I have done a bit of dyeing myself this year, and am pleased to report that it is not nearly as intimidating as you might think it is – so relax, take a deep breath, prepare your working area, and give dyeing a try!  It can be quite messy at times, but if you are anything at all like me, you will LOVE it!
This article takes you through the very easy process of dyeing with KoolAid.  The great thing about this type of dyeing is that the acid which is necessary to cause the dye to adhere to the yarn, is already present in the Kool-Aid, so nothing more needs to be added for the yarn to successfully absorb the colors.  The author does however, soak her yarn first as we all do, and she adds a bit of vinegar to the soak for good measure, although completely unnecessary when using KoolAid.  I think I would probably do the same, just to doubly ensure my success!
If you are having any trouble finding KoolAid packets to use for dyeing, they can be readily ordered from Amazon at any time.
Special thanks to BoHo Knits for sharing this great article/tutorial on dying with KoolAid with us!  Be sure to give it a try and let your creative process run wild while doing so.  That will allow you to create some phenomenally uniquely colored fiber which you will be proud to claim as your own!  If you do not have any white/cream colored skeins of wool yarn in your stash, the options are to head to your LYS (Local Art Store) and purchase some, OR, you can "overdye' on top of another color – preferably one that is lighter, or a soft shade of pastel.
If you do decide to give dyeing with KoolAid a try, I would love for you to let us know how it works out for you, and post pictures of the newly dyed skeins as well if you would please!  I'm in need of some "eye candy", and I love looking at freshly dyed, vibrant skeins of yarn, that are eagerly waiting to be cast on to someone's knitting needles or crochet hook, in anticipation of becoming a well-loved or favorite article of it's kind!
To read the article and tutorial on how to be successful in dyeing with KoolAid, please click here.
Be Well Friends!
Laura & Bruce
**We would like to kindly request that you please click on some of the Google Ads on The Spinner's Husband Blog page in order to support us in sharing wonderful free patterns, articles and tips with you every day.  You can also check out the Amazon Ads on the right hand side of the same page(s) to stock up on any necessary crafting supplies and whatever else you may need or want.

About The Author
Laura and Bruce
To say simply "We Love Yarn" would be a serious understatement. My wife has been into Crocheting, Knitting and more recently Spinning for as long as I have known her. I on the other hand, am a computer geek who loves woodworking.