Crocheted Hearts to Give Cupid a Hand! Free Pattern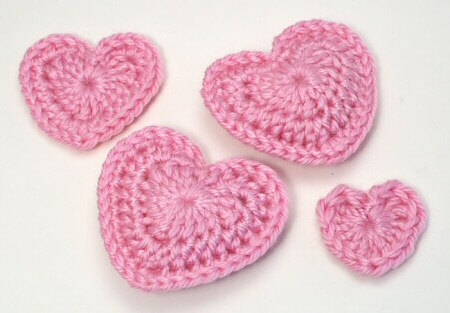 Love is in the air, and hearts and flowers will soon be filling store shelves in time for people to proclaim their feelings with chocolate dowries fit for a princess (or prince as the case may be).  Be an original this Valentine's Day with a hand and heart-made crocheted gift for the object of your affection.
These little crocheted hearts are very quick and easy to make up and very versatile in their uses.   Some I can think of off of the top of my head are: decorations for a Valentine's poster card, gift embellishments, an applique to sew on a garment, a basketfull of them with a few drops of essential oils sprinkled on them as a form of "love potpourri", a garland or banner of multiple hearts – especially the puffy ones and last but not least, you could join them all end to end and make a skinny scarf or regular sized scarf depending on how big you end up making your hearts!
Special thanks to June Gilbank of Planet June.com blog for this heart pattern.
To view the crocheted hearts pattern and phenomenal photo tutorial, please click here
Be Well and Share the Love!
Laura & Bruce
**If we could ask you a favor, could you please click on some or all of the Google Ads on the Spinner's Husband Blog page?  This costs nothing for you to do, and helps to support our site in bringing you these free patterns daily!  While you are there, you can also check out the Amazon ads to stock up on any craft supplies or any other goodies that you may want or need.  We really appreciate your help!

About The Author
Laura and Bruce
To say simply "We Love Yarn" would be a serious understatement. My wife has been into Crocheting, Knitting and more recently Spinning for as long as I have known her. I on the other hand, am a computer geek who loves woodworking.