Crochet a Fun, Bright Summer Market Bag!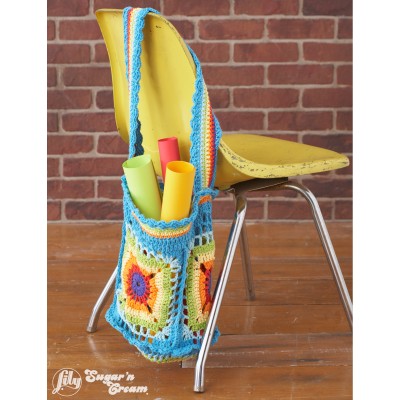 |
Today's offering is a handy-dandy, bright and cheerful, spacious crochet market bag!
Summer is great!  I have always loved going to farmer's markets and roadside stands and gathering fresh produce to serve my family!  A prerequisite for that however, is one or more spacious market bags to hold the bounty!  Crochet market bags are especially nice for this!  It's also always great to do your part for the planet and keep all those nasty plastic bags out of our landfills.  (As a side note:  I am turning my plastic bags into "plarn"(plastic yarn), and using them to crochet waterproof, somewhat insulated mattress pads for people who are sleeping outside and/or plastic seat covers for lawn chairs.)
This roomy and cheerful market bag is made with cotton for durability and easy maintenance.  It is fairly quick and easy to make, and you can use up all your cotton skein remnants to give it the colorful appearance and bust some of your stash at the same time!  The colors can be personalized to your taste or another's, and it also makes a great (and practical) gift for family, friends or other loved ones!  It will make you think of summer all year long, as it's durable enough to be used in the winter also.
To crochet this free Market Bag pattern, please download the instructions by clicking here.
Be Well and Happy Summer Friends!
Laura & Bruce
**P.S.  Please don't forget to click a few of the Google links on our page to help support this site!  No purchase necessary, just a click or two if you are so inclined!  We truly appreciate it!