Hearts and Hands are Warm with these Crochet Wristwarmers – Free Pattern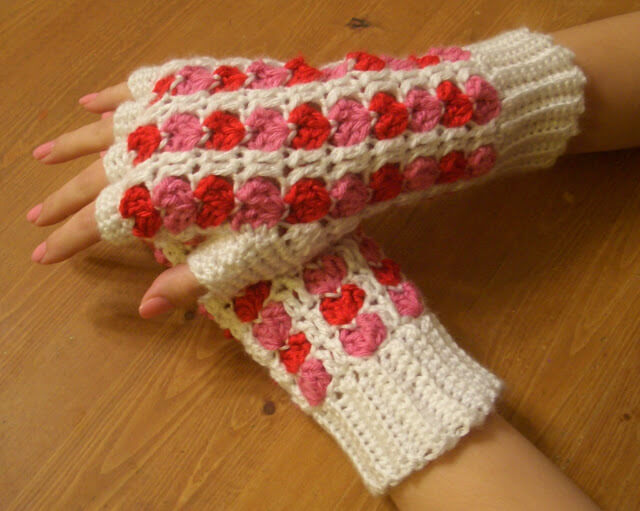 |
With Valentine's Day fast approaching, let's turn our attention today to something with heart! Or hearts in this case! Crochet an adorable pair of heart covered fingerless mitts/wristwarmers with this free pattern.
It is a great project to crochet which will use up some of the odds and ends in your stash, making it a loving and practical gift all at the same time! They can also be made with or without finger openings – the choice is yours!
These fingerless gloves are quite quick to make, so you should have time to whip some up for all your favorite people for Valentine's Day, and unlike the candy and flowers typically given, these gloves will last and stand the test of time as the gift that keeps on giving! Both hands and hearts will be warm for sure!
Special thanks to Pam C. for sharing this free crochet heart wristwarmers pattern and tutorial with us on her CrochetParfait.com blog!
To view the free crochet pattern and excellent step by step tutorial, please click here.
Be Well Friends!
Laura & Bruce
**If we could please ask that you help support the site in bringing you fresh, free patterns every day, by clicking on some or all of the Google Ads on the Spinner's Husband Blog page while you are there. Clicking does not cost anything but a moment or two of your time, and would be greatly appreciated! There you can also find some Amazon Ads so you can stock up on any crafting supplies you may want or need as well. We thank you!