Crochet Chevron Glasses Case – Free Pattern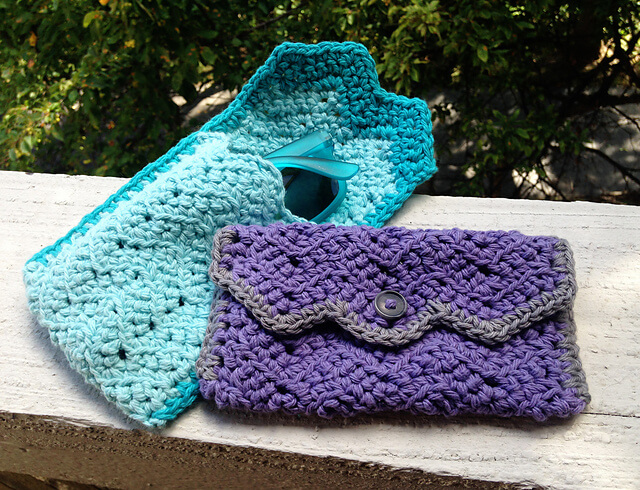 |
Keep your glasses safe when not in use, with this Free Crochet Chevron Glasses Case Pattern.
This is a nice straightforward crochet pattern which will result in a very nice looking and secure glasses case to protect your lenses from scratches and scuffs caused by setting them down unprotected.
I just started wearing glasses myself two years ago at 51, and am grateful for them, but am still a little cranky that I have to use them.  They are a Godsend though, especially if you do close work like knitting and crocheting.  I already had to have my lenses replaced while under warranty, because the protective coating on them was supposed to be scratch resistant, but they got scratched somehow in spite of it.
Now that I have them back, I am much more careful where I set them down, and have several of these cases around the house to keep them safe.  The only thing I haven't been able to figure out is how not to fall asleep with them on!  Hee Hee!!!  They are made of titanium, so very very light, so much so that you can forget you are even wearing them!
These cases can be made using leftovers from your yarn stash, and everyone knows that I love me a good "stashbuster"!!  Lauren uses cotton yarn to make the glasses cases in the photo, which is a great idea, because they are nice and soft and cushy for protecting delicate lenses!
At this time of year they make a good quick gift or stocking stuffer too!  Don't forget people who may not wear glasses, but do wear sunglasses.  They make excellent sunglasses cases too!
Special thanks to Lauren Elizabeth for sharing this Free Crochet Chevron Glasses Case pattern with us!
To view this free crochet pattern on Ravelry, put on your glasses if you wear them, and then please click here!
Be Well Friends!
Laura & Bruce
**As always, we would really appreciate you clicking some of the ads on our blog page, as this lets us continue bringing you these wonderful free patterns every day!  Thanks for the help!