Crochet Some Fluffy Baby Meringue!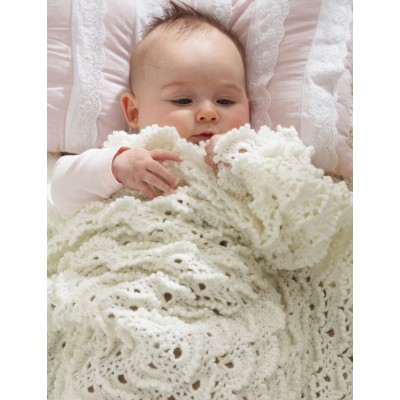 |
This crochet Fluffy Meringue Stitch Baby Blanket will be a work of art!  Any mother would be thrilled to have it for their baby.  It would even make a phenomenal Christening/Baptismal blanket if that is something that your family does.
This crochet blanket, when finished would also make an amazing, awe-inspiring gift if someone you know is expecting or has just had a little person.
There is also a video tutorial from Mikey (Michael Sellick), host of the popular Crochet Crowd website.  Thanks so much to Mikey and Yarnspirations for providing us with this terrific pattern, chart and video tutorial.
He says in the tutorial that it is not really suitable for a newbie crocheter, so please, if you are a newbie, build your skills a little stronger before you try to make this – if you are an intermediate to advanced crocheter, you should have no difficulties with it, especially with Mikey's awesome tutorial.
To download this gorgeous crochet baby blanket pattern and access the video tutorial, please click here.
If there are any type of patterns that you are looking for, I'm always open to suggestions for my posts, so please don't hesitate to let me know in the comments on Facebook if there is something specific you have in mind, or have a yen to make, but can't find a pattern you like.
Be Well Friends!
Laura & Bruce
P.S.  This is a long weekend in Canada, so I will be off Saturday, Sunday and Monday this week, but rest assured I will be back Tuesday with new patterns for you to try!  I hope you and yours have an excellent weekend too!