Free Broomstick Lace Crochet Patterns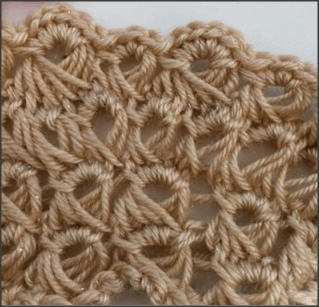 |
The Broomstick lace can seem difficult.
Once you learn the technique, it is fairly easy.
Not all of the patterns are free, but you should be able to find something here that excites you.
I liked the fingerless gloves.  Our climate here, British Columbia, usually does not require full gloves.  So these are a nice compromise.
Before I tried broomstick lace, I thought that it would be difficult. Although it takes some adjusting to figure out the right position and whatnot for your own comfort, it's actually a fairly easy version of the craft and one that I find to be so beautiful. I've created a beginner's guide and a cowl pattern for Red Heart Yarns (shown below) and also collected some of my other favorite crochet broomstick lace patterns here to inspire you.

Ultimate Beginner's Guide to Broomstick Lace Crochet @redheartyarns

Broomstick lace crochet top free pattern @mamainastitch

Broomstick lace infinity scarf free crochet pattern from @bhookedcrochet

Broomstick lace infinity scarf free crochet pattern from @speckless

Free crochet broomstick lace scarf pattern on Ravelry from megNEATO

Broomstick lace crochet scarf pattern for sale from April Hubbard

Broomstick lace crochet hat pattern for sale on Ravelry from Kim Davidson; there's also a matching scarf pattern

Free crochet pattern for Broomstick Lace hook holder via @CrochetKitten

GrittyKnits free crochet pattern for broomstick lace fingerless gloves

Crochet crescent shawl pattern for sale from Voie de Vie, featuring broomstick lace crochet accents

Broomstick lace crochet pattern roundup from @UCrafter including her free shawl pattern shown above

How to learn broomstick lace crochet with 5 pattern suggestions including this Mon Petit Violin cardigan; my article over on @beCraftsy

This broomstick lace crochet cardigan pattern is taught in the Stitch Diva Craftsy class on Broomstick Lace
Kathryn
San Francisco based and crochet-obsessed writer, dreamer and creative spirit!